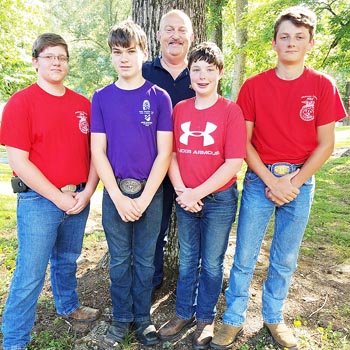 The Anderson County FFA Chapter competed in and won first place in Tennessee in both the FFA Environmental and Natural Resources and FFA Agronomy Career Development events June 10 in Doyle.

The Environmental and Natural Resources competition allows students to apply classroom knowledge to real-life situations.

This event focuses on testing the students' general knowledge, problem solving and decision making skills in environmental and natural resources.

These areas concentrate on soil profiles, water and air quality, waste management, environmental analysis, and use of global positioning units.

The Agronomy competition allows FFA members to demonstrate their skills in solving complex problems related to crop production, agricultural knowledge and skills in the area of Agronomy.

Additional activities included crop, weed, insect and seed identification; crop and seed judging and evaluation; and grain grading.

A written examination was included along with a team problem solving competition.

These two teams will join the other two Anderson County FFA State Winning teams of Food Science and Poultry in October 2017 when they compete in their respective National Contests.

With these four state championships in the past two months, the Anderson County FFA Chapter ties the Tennessee State Record for the largest number of teams from a single FFA chapter that will compete in the National Championships within the same year.

All four teams are coached by Anderson County FFA Advisor Philip Warfield.