Twelve bands in two days play at Secret City Festival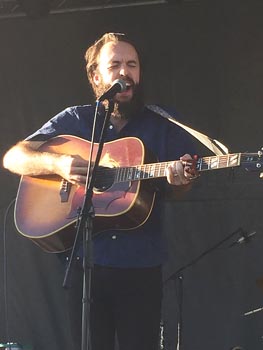 There was a little "mix up" promoting the live bands at the 2017 Secret City Festival.

"I didn't hear us mentioned in any of the promotional things we heard," Knoxville's Cereus Bright front man Tyler Anthony joked Friday after the band performed.

Not that outside promotion of the show really mattered to the band.

"We let everyone know we would be here through our Facebook page," he said.

Cereus Bright has a hardcore following.

The band was formed fouryears ago by Anthony and Evan Ford after they graduated from the University of Tennessee, Knoxville.

The band started as a sort of folk/bluegrass band.

"That was our first incarnation," Anthony grinned.

They put out two EPs in that genre, "Goldmine," and "Happier Than Me."

Two years ago, Anthony said, "Our second selves came out."

Cereus Bright added three full-time band members, cranked up the electric guitars, and produced a more traditional rock and roll sound, as well as the band's first full album, "Excuses."

Fans seem to embrace both phases of the band.

"I've seen you guys five times in like the last two months," one fan said as she purchased a t-shirt and grabbed a sticker.

Yes, the band mans its own merchandise kiosk after their shows, allowing them to talk to fans, sign autographs, and pose in selfies.

Anthony said he wasn't disappointed in the turnout for Cereus Bright's Friday show — attendance grew steadily as the band played, and even the "familiar faces" were moving to the new songs.

"We saw a lot of familiar faces," he said. "And a lot of new faces that got up there and danced."

Cereus Bright is used to smaller, more intimate crowds having completed a sort of "house party" schedule in 2016 (literally setting up and playing at people's homes) — as well as playing numerous festivals around the country — and have recently "scaled back" its touring to concentrate on writing new material.

"We've spent a lot of time working on new material," Anthony said.

During the performance Anthony referred to the band working on new songs.

"We've been working on some stuff in our basement … And you know, when musicians say they've been 'in the studio,' it really means they're in their basement working on songs …

"So, we've been in the studio …"

Seven new songs were performed during Friday's performance, just the third time some of the new material has been played to the public.

"We're just trying it out to see how people respond to it," Anthony said.

Cereus Bright was one of 12 bands playing over two days (Friday and Saturday June 9 and 10) at the Secret City Festival.