Jessica Stroud racks up credit hours, earns a degree, and sets a record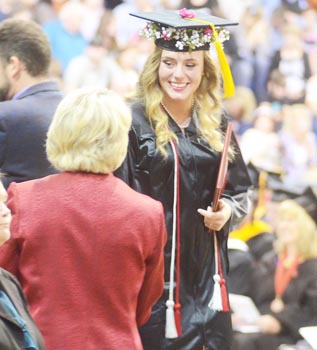 An Anderson County High School graduate has achieved something no other student at the school has done before.

Jessica Stroud, 18 year-old-daughter of Jeff and Cynthia Stroud, of Clinton, took numerous courses at Roane State Community College while enrolled as a student at ACHS through the school's Middle College Program and graduated this May from RSCC and ACHS with a total of 75 credit hours, the most credit hours a student has ever earned at RSCC — a record-breaking achievement for the Anderson County School District as well because it is a first time thing.



It is an unheard of accomplishment by a high school student.

Unheard of until now, thanks to the school's Middle College program, and to Stroud's hard work and dedication. Stroud's record-setting accomplishment was made possible through the Middle College Program, a pilot program RSCC launched in 2014 with area schools, in which a select group of eligible high school sophomores from Roane County (later extended to neighboring counties like Campbell and Anderson) earn college credits while in high school and a chance to graduate from high school with a high school diploma and an associate's degree from RSCC.

In its pilot year, Middle College was initially made available to only Roane County students, but with the success the program garnered in its first year in operation, RSCC extended its reach by partnering with Campbell County and Anderson County school systems in 2015.

Through this program, Stroud, and 29 other ACHS and Clinton High School students, now 2017 graduates, were able to get a jump start on the college experience and get a feel for what life is like beyond high school.

Stroud was part of the first graduating class of seniors in the Anderson County School District to graduate from Middle College.

She enrolled in RSCC in 2015, when she began the eleventh grade, which was the first year RSCC offered Middle College to Anderson County.

Now, nearly two years later, Stroud did what in previous decades would have been unheard of in this area—she graduated twice in one month, first from RSCC on May 13 with an associate's degree, and about a week later, from ACHS where she walked across the stage with her classmates at Thompson Boling Arena in Knoxville and received her high school diploma.

In an interview with Stroud last month, she talked about how the Middle College Program helped her achieve her goals.

"This program prepared me so well for the next step academically. All of my professors took special care to make sure that we were prepared for whatever the next step could be in their subject. I feel really confident that I'm ready for my upcoming classes at LMU," Stroud said.

Stroud owns a 4.0 grade-point average and plans to major in chemistry at Lincoln Memorial University this fall.

After completing a calculus course this summer, she will start her college career at LMU with 79 credits.

Stroud's interest in chemistry was ignited after enrolling in a chemistry course at RSCC in Middle College. Before then, she said, chemistry was not really her thing—or at least she thought chemistry was not for her, but that changed.

"I hated chemistry going into this program, but fell in love with the science in Professor Ward's class. I took Organic Chemistry last summer, which eventually convinced me to choose chemistry as a major. Many people change their major to avoid this class, and I loved it!" exclaimed Stroud.

Organic Chemistry "explained so many things I had observed and learned over the course of my life," she added.

Stroud applied and was accepted to several schools, but ended up settling on LMU because LMU offered her a full tuition scholarship valued at more than $20,000 a year to attend.

"I chose the offer at LMU because their customer service is unmatched, and I like the small size. I think the size will help me develop relationships with professors that is absolutely necessary for my major. Also, I can attend for slightly above the cost of Roane State, even living on campus," Stroud said.

Choosing to enroll in the Middle College program was "the best academic decision" Stroud has ever made, she said, because it offered her academic freedom and was tailored to her learning style.

"In high school, my classes met for many more hours per week and were much more assignment driven. In college, we met only a few hours a week and everything was test-driven. For my learning style, the test-driven approach is much more effective. I found myself pouring all of my study time into specifically what I needed to learn instead of dividing my attention over various assignments," she said.

When asked what type of student is capable of keeping up the pace of high school and college at the same time, Stroud said it takes a driven student who wants to work hard and follow the professor's advice on how to stay ahead on the work to succeed.

Her advice to future Middle College students is "to work hard and stay ahead."

Said Stroud, "Follow your professor's advice on how to study. They are the ones making the tests. Fully utilize their office hours, too. I didn't meet one professor who didn't truly want me to succeed. Also understand that entering this program brings challenges at the high school. Because you're seldom there, it is more difficult to stay involved and informed. I was fortunately able to participate in choir because of the willingness of my director to work with my crazy schedule. The degree and work you're getting done at Roane State is worth the difficulties at the high school for me."

Staying focused was not hard to do, she said.

"I knew that what I was doing was very important and would be worth it in the end...I didn't have a lot of free time, especially this past semester, which was 18 hours, but I found myself enjoying being busy. Most of my classes were very enjoyable, which made studying much easier." she said.

She credits her success in the program to her professors.

"Most of my professors deserve credit for my success. A few of the most influential are Mr. Steve Ward, Dr. Saeed Rahmanian, and Mrs. Elizabeth Genovise. Also, Mr. David Lane and Dr. Diane Ward were so helpful and did anything they could to help us along the way," she said.

What she plans to do after graduating from college is still to be determined.

"I'm not entirely certain what will come after my bachelor's degree, but I will continue my education somehow. I am constantly torn between pursuing a doctorate degree in chemistry and going to pharmacy school. I learned that chemistry was my passion during my Organic Chemistry class last summer. My favorite part of organic chemistry was our brief discussions of medicinal chemistry. In addition to that, I really loved Anatomy and Physiology, which has led me to consider pharmacy," explained Stroud.

In addition to her full academic schedule, Stroud also participated in Choir during all four years of high school, three years of which included her going to All East.

"I will live on campus at LMU and am so excited to begin this new chapter of my life," Stroud said. "I am most excited to pursue chemistry and learn specifically what I enjoy about the subject. There are so many types of chemistry that I could study, so I look forward to the guidance I'll receive through my classes. I know that those classes will help me decide what to do with my life."

In all, 17 students from ACHS and 13 from CHS graduated from the program in May, commented Dr. Josh Tipton, Anderson County Schools' Data and Evaluation Coordinator and Middle College Supervisor, in an email last month, in which Tipton explained the advantages and benefits of Middle College.

"Anderson County and Roane State have worked very hard to help our Middle College students be successful, and the graduation of the inaugural cohort of students is something we are very proud of. We will absolutely continue to identify eligible students each year and we believe this program helps to meet a need for students within the district. That is truly the goal of any academic program offered in Anderson County."