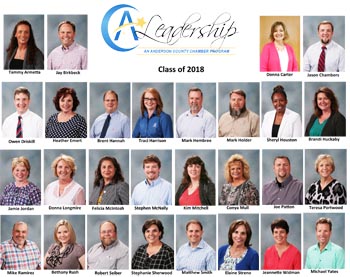 Leadership Anderson County, sponsored by the Anderson County Chamber of Commerce, began on May 15-16 with Orientation Team Building at the Holiday Inn Express & Suites.

In addition to program orientation, the Class of 2018 participated in an Economic Development project, "The Marshmallow Challenge," a DISC assessment with Dr. Stacy Myers of Advanced Management, Inc., and was introduced to leadership styles by Chuck Carringer of Chuck Carringer Executive Coaching.

This years' class boasts 28 participants: Tammy Armetta, Member Service Consultant IV, Y-12 Federal Credit Union; Jay Birkbeck, Financial Advisor, Wells Fargo Advisors; Donna Carter, County Extension Director/4-H Agent, UT Extension; Jason Chambers, Teacher, Anderson County Schools; Owen Driskill, Executive Director, Oak Ridge Campus & Community Relations, Roane State Community College; Heather Emert, Mortgage Division Manager, TN Bank; Brent Hannah, Director, Pulmonary, Non-Invasive Vascular & Transplant Services, The University of Tennessee Medical Center; Traci Harrison, Marketing Team Lead, Y-12 Federal Credit Union; Mark Hembree, Assistant Vice President Member Business Loans, Enrichment Federal Credit Union; Mark Holder, Safeguards and Security Supervisor, Isotek Systems, LLC; Sheryl Houston, Information Solution and Services: Transformation Program Manager, Consolidated Nuclear Security Y-12; Brandi Huckaby, HR Generalist, Y-12 Federal Credit Union; Jamie Jordan, Assistant Director, Supervisor of Testing, Interventions and Health, Clinton City Schools; Donna Longmire, Director of Surgical Services, Methodist Medical Center; Felicia McIntosh, Environmental, Safety & Health (ESH) Operations Manager, UCOR; Stephen McNally, Operations Manager, UT Battelle/ORNL; Kim Mitchell, Director of Marketing, Anderson County Chamber of Commerce; Conya Mull, Workforce Development Director, Emory Valley Center; Joe Patton, PC Assistant Manager, Aisin Automotive Casting TN, Inc.; Teresa Portwood, Realtor, Sellers Realty; Mike Ramirez, Manufacturing Manager, Aisin Automotive Casting TN, Inc.; Bethany Rush, Assistant Branch Manager-Clinton, ORNL Federal Credit Union; Robert Seiber, Sales/Customer Service, Powell-Clinch Utility District; Stephanie Sherwood, Dutch Valley Elementary Principal, Anderson County Schools; Matthew Smith, Program Manager-Technology Development & Transfer, Consolidated Nuclear Security Y-12; Elaine Streno, Executive Director, Second Harvest Food Bank of East Tennessee; Jeannette Widman, Senior Environmental Specialist, StrataG; and Michael Yates, Director of Development, Ridgeview Behavior Health Services.

Leadership Anderson County, originated in 1990, is designed to develop emerging leaders and promote the importance and strengths of our community.

The program offers participants an opportunity to better understand community dynamics, build their community connection to local business and industry, refine their knowledge of local and state government, and stimulate future participation and commitment to their community.

Since its inception this program has graduated over 500 participants.

Program day tours, nine total, are designed to cover all aspects of Anderson County.

In addition to Orientation/Team Building, an overnight State Government Trip to Nashville is an opportunity for participants to connect at the state level. Once the program is completed, graduates of Leadership Anderson County are honored at a special graduation dinner.

Leadership Anderson County is managed by a 13-member Advisory Board, all Leadership Anderson County Alumni.

Advisory Board members oversee all aspects of the program, that includes program day planning and facilitating, a Community Service Activity and Extra-Curricular Activity required to graduate.

Leadership Anderson County will begin accepting applications for the Class of 2019 in January.

For more information about Leadership Anderson County or the Anderson County Chamber of Commerce, visit: www.andersoncountychamber.org or call 865-457-2559.