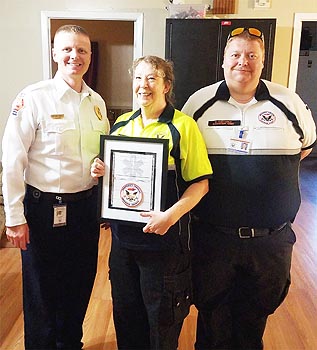 Graduates of Roane State Community College's paramedic program continue to distinguish themselves in their professions by earning honors bestowed by peers and supervisors.



Two 2005 graduates of the paramedic program were recognized by Anderson County EMS during National EMS Week, held in late May each year.

Lt. Steve Seals was named "Officer of the Year," while Millie Huddleston was recognized as "Paramedic of the Year."

Co-workers and supervisors nominated them for the recognitions. In those nominations, Seals was described as exemplifying "our core values, including integrity first, service before self, as well as excellence in all we do."

Anderson County EMS Director Nathan Sweet, also a Roane State paramedic program graduate, said Seals "brings a high level of work ethic every day."

Huddleston, co-workers said in their nomination comments, "has a great attitude towards her clients and is always upbeat and smiling."

"She always brings a smile to my face," Sweet said of Huddleston. "It has always been an encouragement to me to see how she does what she does."

Sweet said Huddleston and Seals were employed at Anderson County EMS before they enrolled in Roane State's paramedic program.

To learn more about Roane State's EMT and paramedic programs, visit roanestate.edu/ems or contact David Blevins at (865) 354-3000 ext. 4768 or blevinsds@roanestate.edu.