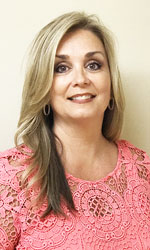 Regina Copeland, a lifetime resident of Anderson County will bring valuable experience to the Trustee Office, capitalizing on her experience of managing the 911 Office for the past eighteen years.

Copeland explained her reason for seeking the Trustee position.



"I have managed budgets and personnel within county government for the past eighteen years. This is a chance for me to utilize my experience in government in serving the people of Anderson County in a new capacity in the Trustee Office."

Copeland has overseen several projects as 911 Director including mapping, planning, and working with city and state officials.

These tasks have included reconciling accounts, preparing for annual audits, oversight of installation and maintenance of all 911 Equipment, and maintaining a database for tens of thousands of addresses.

Copeland is married to Keith Copeland and they have two children Autumn Copeland Carroll and Dustyn Copeland. Keith and Regina are business partners in an electrical business in Clinton.

Copeland is a life time resident of Anderson County and an active member of Pine Ridge Baptist Church.