Youth Advisory Board means more than a free pass to the Fair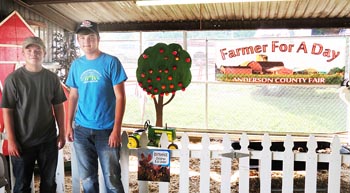 The Anderson County Fair, affectionately known as "The Best Six Days of Summer," is successful in part to its many volunteers.



One such group is the Youth Advisory Board.

Led by Patsye Thurmon, this group of high school students volunteer each year to run the information booth and Farmer For a Day at the Anderson County Fair. Kids can begin volunteering in sixth grade through their senior year of high school.

"It's a great way to do community service hours and really help out," says volunteer Katie Courtney. "I love just meeting the people and talking to the community."

"We have some great kids ... They are all very responsible and they take this to heart — it can be hard work, but they have fun, and learn from the experience," Thurmon said Monday night, the opening night of the fair.

As part of the information booth services, the Board members also distributed raffle tickets at the fair. Volunteer Daniel Gentry said that this experience was also rewarding. "It's nice to see when somebody wins."

The Farmer for a Day exhibit, located in the barn near the poultry exhibit, is designed for children ages eight and younger and teaches about the importance of farming in a community.

"The only negative is probably just the weather, honestly," says Gentry.

This year temperatures during the week of the fair were in the nineties, with a heat index reaching nearly 100 degrees.