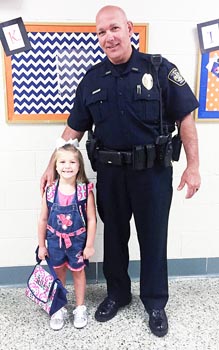 Officer Greg McBroom has been a part of Clinton Elementary School since the beginning of the School Resource Officer Program in 2012.

Six years ago, Clinton City Schools and Clinton Police Department entered into a partnership to provide a full-time SRO to each school, adding an additional layer of safety and security to the city schools.

Since the beginning of this program, Officer McBroom has served as the Lead SRO for Clinton City Schools.

His expertise in school safety has proved to be beneficial to the system.

However, the most impressive component of this program has been the positive relationships that have developed between Officer McBroom and the students.

He serves as a positive role model for all who encounter him.

This is the first year that the category of "SRO of the Year" has been added to the Education Foundation for Clinton City and Anderson County Schools Teacher of the Year Banquet.