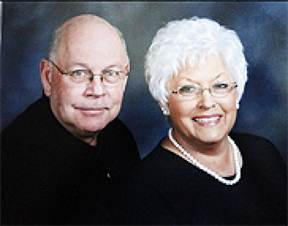 Fifty years of loving, caring, and sharing… Jim and Dee Sanderson were married June 21, 1968, in Georgetown Baptist Church, Georgetown, Ky.

They celebrated their golden wedding anniversary later this summer on June 16, 2018, at First Baptist Church Family Life Center from 2-4 pm. They enjoy serving in their church, community, and more than else, spending time with their grandkids.

Jim and Dee both grew up in Kentucky where they met in church in 1964.

They started dating when they were 19 years old and dated for exactly three years eight months and 22 days.

Jim popped the question on September 30th, 1964 and after graduating from Georgetown College they were married on a beautiful summer day on June 21, 1968.

Since getting married, Jim and Dee moved to Tennessee two weeks after getting married to Rockwood, later in 1970 they would move to Clinton, where they raised both of their kids.

They have two children: Shirlann Sanderson and Jon Sanderson; and four grandchildren Shayla Sanderson, Jon Sanderson, Christian Sanderson, and Jianna Sanderson.