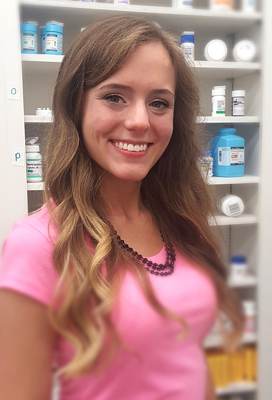 Spring was a busy and exciting time for Roane State Middle College graduate Jessica Stroud.

She got married June 6, and she's been admitted to pharmacy school while still a teenager.

Jessica, 19, "will definitely be one of the youngest people there," she said of her acceptance at Belmont University's School of Pharmacy in Nashville. She says her Middle College experience played a crucial role in her ongoing education.

Through Middle College, eligible students can complete a Roane State associate degree and earn their high school diploma at the same time.

"I really loved it," Stroud said. "It was exactly what I needed educationally." In Middle College, "I had more free time, so I could choose how I needed to study and exactly what I needed to study for."

That freedom - and Jessica's work ethic - paid off. She finished at Roane State with a perfect 4.0 grade point average and 79 semester hours - far more than the 60 hours needed for an associate degree.

Jessica and several fellow students at Anderson County High School were in the inaugural Middle College class there in the fall of 2015. "Most of my friends went to Middle College with me, and they thought it was pretty cool," she said.

She graduated from both Roane State and the high school in 2017. Other high school students "either wished they had done it (Middle College) or are hoping to do it," she said.

"Part of the reason I'm going to pharmacy school were the awesome professors at Roane State," she said.

During Middle College, Jessica studied and took classes at the Oak Ridge campus and returned to Anderson County High for choir.

She cited Roane State Professor Saeed Rahmanian's anatomy and physiology class and Professor Steve Ward's class in organic chemistry as particularly memorable.

She had finished a year of studies at Lincoln Memorial University in Harrogate, Tenn., when she won the pharmacy school acceptance, which includes a $12,000-a-year scholarship.

She's the daughter of Jess and Cynthia Stroud of Clinton. Jessica is following in her mother's footsteps: She's a pharmacist.

To learn more about Middle College, visit roanestate.edu/middlecollege or contact Middle College coordinator David Lane, (865) 354-3000 ext. 4223 or lanedr@roanestate.edu.