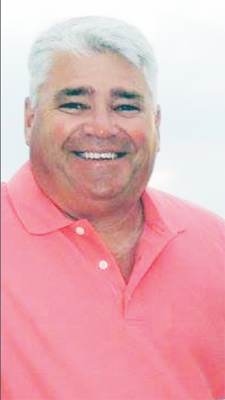 Tracy Wandell is seeking another term on the

Anderson County Commission.



After his father's retirement from the U.S. Navy in 1979, he moved with

his family to Claxton.

He attended Clinton Junior High and graduated

from Clinton High School in 1984.



Wandell joined the U.S. Navy in 1985 and returned to Claxton after being

honorably discharged in 1989. He married Shannon Kelley Wandell in 1994

— the two grew up together on Valley Lane in Claxton.



They have four children who have been raised in Claxton and attended

public schools in Anderson County.

Samantha Fenn is their oldest and she is married to Robert Bolden. They

recently had the Wandell's first grandchild, Finley.

Kelley Ann, their second child, is a rising junior attending Maryville

College where she is a member of the basketball and volleyball teams.

Trace Douglas is a rising junior at Clinton High School where he is a

member of the basketball team.



Their youngest, Macy Lynn, is a rising fifth grader at Claxton

Elementary School.



Wandell currently works at System One located in Oak Ridge, a

full-service staffing agency with more than 50 offices nationwide. As a

Senior Account Executive, he works with energy, manufacturing, and

industrial sectors to provide high quality employees that meet their

needs.



Prior to his work in the staffing industry, Wandell was an owner/partner

of a coal ash marketing company for more than 16 years.

In 2006, he was elected as an Anderson County Commissioner representing

District 1.



"I ran for County Commissioner serving District 1 in 2006 to address

several issues at the time including the idea of Bull Run Steam Plant

being annexed by the city of Oak Ridge. Another reason was the open

sewer waste treatment plant located in Claxton near Ben's Mobile Home,"

Wandell said.



"Once elected, both issues were addressed and resolved. Serving as your

District 1 Commissioner, I have never voted for a tax increase and I

have always made myself available and responsive to the constituents

that I serve." he added.



He currently serves as Chairman of the Operations Committee, Revenue

Committee, and the Veterans Service Advisory Committee.



During his tenure, Wandell has served on all of the following

committees: Ethics, Fire Commission, Insurance Subcommittee, Justice

Center Study, Legal Services Advisory, Nominating, Purchasing, Chairman

on the Conservation Board, and the Solid Waste Advisory Board.

In 2017, he was elected to the Tennessee County Commissioners

Association as a Board Member representing the East Region.



In 2018, Wandell was elected into the Vice President's position

representing the East Region and currently serves on the Executive

Committee, Finance Committee, and Veterans Committee at the State level.

He is a member of Riverview Baptist Church as well as the Alpha Masonic

Lodge #376.

Wandell is also a member and past President of the Claxton Optimist

Club, a member of the Green McAdoo Cultural Organization, and a past board

member of the Claxton Volunteer Fire Department.



"As County Commissioner I have developed strong relationships with many

different organizations such as Department of Energy, Tennessee Valley

Authority, Tennessee Department of Transportation, and other local and

state government entities and elected officials," he said.



"It is an honor and privilege to serve and give back to the people of

District 1 and Anderson County. My passion and desire remain strong and

I am hopeful to earn your support and vote to serve as one of your

County Commissioners in District 1," Wandell said.



If you would like to meet, have a call, or exchange email, please he

encourages his constituents to contact anytime at (865) 388-0921 (cell);

(865) 945-1735 (home), or via email at tlwandell@msn.com.