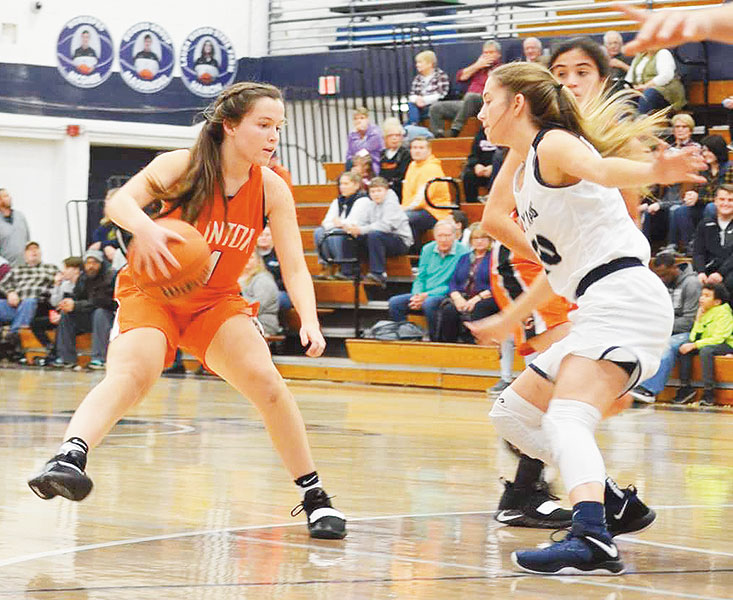 The Clinton High School Lady Dragons (10-4, 3-2) picked up two wins this past weekend, and have now been victorious in six straight games. The Lady Dragons traveled to Harriman High School for the Jim Cordell Christmas Classic. On Thursday, Clinton cruised to two easy wins over host Harriman (56-21), and Oakdale (45-17), on Friday. On Saturday, The Lady Dragons faced Rockwood in their final bout of the weekend, but the results of that contest were unavailable by press time.

The Lady Dragons were excellent on the defensive end of the floor, over the weekend. Through eight quarters of play, Clinton gave up ten points in a single quarter only once. The Lady Dragons gave up ten points in the first quarter against Harriman. However, five Lady Dragons would score in the first quarter—Clinton took a 14-10 lead into the second quarter and wouldn't look back. The Lady Blue Devils only mustered up two second quarter points, and Clinton defense would propel them to a 23-12 halftime lead.

In the third quarter—Déjà vu—the Lady Dragons hold Harriman to only two points. Senior Nikki Jones would add to her five first half points with two triples. Heading into the fourth quarter, Clinton led 41-14. Five Lady Dragons would contribute in the fourth quarter scoring, and Clinton cruised to their fifth straight win. Jones would lead all scorers with 15 points, Jasmine Moore would put up 11 points, and Martin would finish with 10 points.

Against the Lady Eagles of Oakdale, Clinton's tenacious defense prevented Harriman from scoring more than 10 points in a single quarter. On the offensive end, Senior Danyel Joy scored seven of the Lady Dragons' 11 first quarter points. In the second quarter, Clinton shutout Oakdale and went into the halftime break with a 26-7 commanding lead.

Kinley Jo Martin hit two triples in the second quarter, and would be Clinton's go-to scorer in the third. Martin would have six points, and the Lady Dragons would go into the fourth quarter with a 36-14 lead. Clinton cruised to the finish behind Joy's game-high 14 points, and Martin's 12 points.

Over two games, Clinton only gave up 4.9 points per quarter on average—outscoring their opponents 101-39. The Lady Dragons look forward to a huge test at district rival Oak Ridge on January 3. Clinton will come into that matchup playing good basketball, and look to take over third in District 3AAA with a win over the Lady Wildcats. Tipoff is scheduled for 6 p.m.