Is young star on his way to the NFL?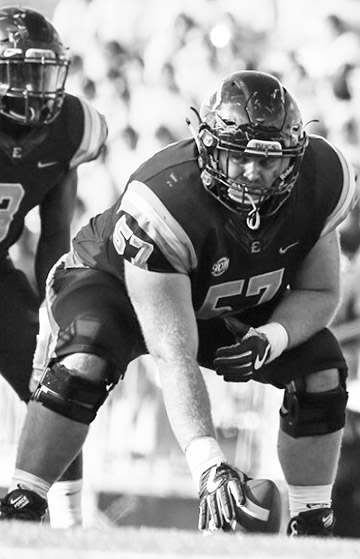 Across the bridge, in South Clinton, at just four years old, Matt Pyke strapped on a football helmet for the first time.

That moment would pave the way for Matt's eventual love of the game of football, and inevitably, his elite level of skill. Growing up, he was a multi-sport athlete, who played baseball and basketball. He played a year of soccer too, but it is best to not bring that up.

By the time Pyke began sixth grade at Clinton Middle School, he was a football stud. Matt started as a sixth grader — every game. Around this time was when Pyke decided that instead of continuing his basketball and baseball career, he turned his entire focus to football.

During the three years as a Clinton Middle Schooler, Matt started every game. It is very possible that he is the only Clinton Middle School player, in history, to do so. As an eighth grader, Matt received All-American honors and participated in the US Army All-American game, in San Antonio, Texas.

Matt would begin his high school career as a Clinton Dragon. In 2010, as a Freshman, Pyke would start for the Dragons' defensive line. In the season opener against Halls, Matt would have six tackles in his first high school game. Unfortunately, Pyke would be faced with some adversity, as he broke his ankle in the second game of his Freshman year, against Kingsport Dobyns-Bennett. During his Freshman and Sophomore years, Pyke would earn All-District and MVP honors at three separate National Underclassman Combines—South Carolina, Georgia, and Kentucky. Pyke's transition to the offensive side of the ball—at Center, would pay off in the future. Also, he earned the Scout Combine MVP award. After being considered as one of the top 50 high school football players in the nation, because his parents relocated, Pyke would transfer to Anderson County High School for his Junior and Senior years.

During his two years as a Mav, Pyke was awarded the MVP at the Steve Spurrier Camp.

Pyke would earn two more All-District honors, was named All-State twice and, as a Senior, was a Tennessee Mr. Football nominee in 2014. Matt also received and participated in the 2014 Tennessee/Kentucky All-Star game, as well as the 2014 East/West Toyota All-Star game.

By his Senior season, Pyke was being recruited by major NCAA Division 1 programs. Every SEC school came to Anderson County to recruit him, except Texas A&M. Both 24/7 Sports and ESPN ranked Pyke as a three-star recruit coming out of high school. Pretty impressive for a defensive lineman playing at center and guard. With multiple scholarship offers on the table, Matt decided to stay close to home—committing to East Tennessee State University.

If solely being a Division 1 student-athlete fails to impress you, here are the numbers—as of April 20, 2018, there were 1,057,382 high school football players in the United States. Only 2.7-percent or 28,549 out of more than one-million high School football players will play NCAA FBS or FCS Division 1 football. Thus, the second Matt committed, he joined a company of the football elite. However, the was one major issue—ETSU did not have a football team.

The ETSU football program was dormant following the 2003 season, and was reinstated in 2015. So, for the entirety of 2014-2015 year, Pyke and the rest of the ETSU Bucs practiced five days a week under a redshirt.

In the Fall of 2015, Matt's second year at ETSU, he and the rest of the Buccaneers' football program ran onto the field. For the University, it was the first ETSU football game in 12 years.

For Matt Pyke, it would be the beginning of his ascension to the FCS national stage—although it would be the journey of his last four years that made it even better.

In their first season back as a football program, ETSU finished 2-9 on the year. Each year, Pyke and the Bucs sought to build off the previous season and improve. In 2016, the Bucs finished the year just below .500, with a 5-6 record. Again, in 2017, ETSU finished to break even. After three years of work, a 4-7 record didn't sit well. Also, to pour salt in the wounds, ETSU head football coach Carl Torbush announced his retirement from coaching shortly after the season's end—December 8, 2017. However, the emotions surrounding the ETSU football program would completely turn around. Just nine days after Torbush's retirement, former University of Tennessee offensive coordinator Randy Sanders accepted the position at the 18th head football coach in ETSU football history.

2018, last season—the last time around for Matt Pyke and his classmates, who helped build the ETSU football program. With a new coaching staff, new energy, and one last chance to leave it all on the field, Matt Pyke and company did just that.

The 2018 Bucs opened the season 1-1, winning the season opener 28-7 over Mars Hill before a loss on Rocky Top.

However, even in defeat, competing against an FBS, SEC caliber program in Neyland is an experience of a lifetime. After the loss to Tennessee, the Bucs went on an absolute tear through their mid-season schedule—winning five straight.

The Bucs were 6-1, and controlled their own destiny in the Southern Conference (SoCon) title race, but would drop a heartbreaker at Wofford College. However, ETSU responded in a big way the ensuing week—grinding out a 45-43 win over Western Carolina, in triple-overtime. After a win at Mercer the following week and a Wofford loss, a (8-2, 6-1) ETSU team hosted Samford in the regular season finale. Needing victory over Samford to win the SoCon outright, the Bucs would fall in another heartbreaker.

However, the Bucs still earned a share of the 2018 SoCon Title and still earned a bid to the FCS Playoffs. In only the program's second playoff appearance, the Bucs would fall 34-27 to Jacksonville State. For the University, the football program, the Bucs (8-4, 6-2) 2018 season was historic. It was the first time that ETSU won eight games since 1996—the year Matt Pyke was born and good for the third-most wins in ETSU football history..

Getting back to that Pyke guy, he played right? In fact, he did—a lot. Pyke was on the bench for only 35 of ETSU's offensive plays. Oh, forgot to mention the—four years—part. In four full seasons of football, Pyke was on the field for all but 35 plays. Exact numbers—here they are: ETSU ran a total of 2977 offensive plays. Matt Pyke was a part of 2942 of them. Also, out of all the touchdowns ETSU scored over those four years, Matt contributed to all of them—expect one.

At the end of four years, Matt blocked a total of 16,236 yards—that's over nine miles.

Furthermore, ETSU's six-foot-three-inch, 300-lb. center earned 2018 SoCon All-Conference, the Jacobs Blocking Award as best SoCon's best offensive lineman in 2018. Pyke was also named a 2018 FCS First Team All-American four times—by the Associated Press, the AFCA FCS Coaches Poll, Hero Sports FCS, and STATS FCS. All-American Phil Steele voted Pyke a 2018 FCS Second Team All-American. Most importantly, he graduated from ETSU in December, with a degree in Sports Management.

Now, Matt Pyke and his football career are far from finished. Also, last month, he accepted an invitation to participate in the 2018 FCS Bowl, in Daytona, Florida.

After playing at the elite level of which he does, Matt accepted an invitation to return to Daytona, on January 14, to play in the SPIRAL Tropical Bowl, which is an FBS All-Star Game. Pyke is ranked 39th of 50 draftable small school players by NFL Draft Blitz. Last Friday, he signed with Logan Brown Sports Agency, and will have plenty of NFL scouts watching him in Florida next week.

Matt is rumored to be on "somebody's" list, and while nobody can predict the future, it seems that the former Mav and Buc has a realistic possibility of getting a shot at the NFL. Nevertheless, Matt Pyke—the man with two extra holidays to himself. He has made history, and the FCS All-American's name will hang in the halls of his alma maters forever. However, Pyke's story does not end here, as lifelong dreams seem closer than ever.