Jay Nidiffer touched a lot of lives while at CHS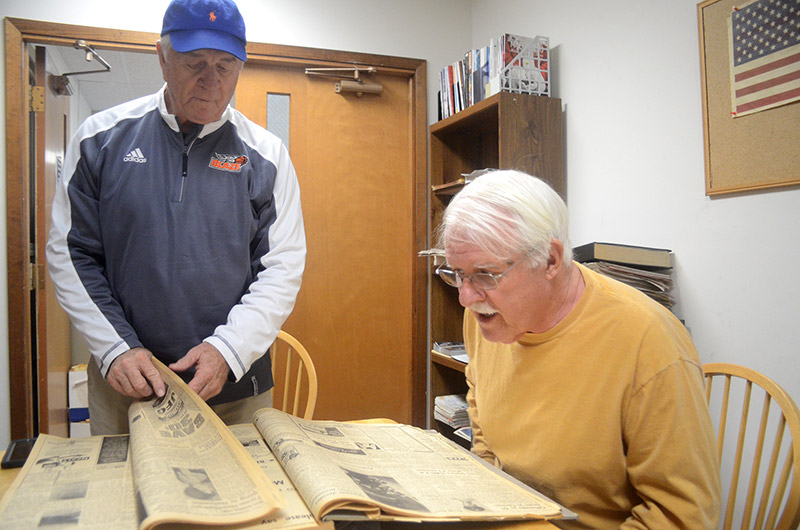 The newspaper clipping is yellowing — the black and white photo with the story not as clear as it was when first printed — but the words on this particular page have the ability to bring back into focus events of 50 years ago.

The photo is of a young coach jumping on the sideline of a basketball court.

It was 1968. The Clinton High School Dragons had just defeated the defending state basketball champion Alcoa Tornadoes to advance to the semi-finals of the region tournament. One more win and the Dragons would be on their way to the state tournament.

A win denied by Fulton High School.

One of the players on that 1968 team is reflecting back on that season — or at least one aspect of that season: The coach, Jay Nidiffer.

Nidiffer died Feb. 26 in Elizabethton at the age of 85.

Another Clinton athlete from that era is also looking back, reflecting on the impact of a coach who had a brief stay with the Dragons and then went on to bigger opportunities.

It's complex.

Nidiffer grew up in Elizabethton, was a three-sport all-star. He served in U.S. Army in Korea and then went to Lincoln Memorial University on a baseball scholarship.

He coached at several high schools — winning a state basketball title in Virginia — before landing in Clinton in 1960.

"He's probably the reason I went to college and played baseball," E.T. Stamey said.

"He's probably the reason a lot of kids went to college," Alvin Taylor added.

Stamey and Taylor, though separated by three years at CHS, have a connection that many other athletes who came through Clinton High in the 1960s share: Jay Nidiffer — or as he was to become known, "Jumpin' Jay Nidiffer."

He coached what may seem like a short while at Clinton. Eight or nine years with the Dragons as head basketball and baseball coach (and as an assistant football coach), but he and his wife, Katie, left such an impression and made such an impact that you would think he was native son and had coached at CHS for 30 years.

"It was a different time," Taylor said. "He was rough, a real disciplinarian, and you may not have always agreed with him, but he was the coach. He ran things his way.

"There were times I grumbled about something he wanted done, but you know what? Years later I remembered those things. He was tough, I mean really tough, but he was funny. He'd get on you and you'd both be laughing."

Taylor said Nidiffer wasn't at Clinton long — but long enough to leave an impact; an impression that players and fans would never forget.

"He had a spotlight put up in the balcony and the lights would go out during players introductions and the spotlight would be on the player. That was new, different in 1960s. He was ahead of his time," Taylor said.

"He was a showman," Stamey said. "He had that kind of streak in him."

Both Stamey and Taylor remembered watching the Nidiffer's son, Toby, shooting baskets during halftime at basketball games.

"He's this little kid, couldn't get the ball to the basket, throwing the ball up from his hip," Taylor laughed. "Fans were cheering him on and clapping, hoping he'd make a basket. That was entertainment during the break. There wasn't a dance team or anything. Just Toby."

After Nidiffer left Clinton he coached at the junior college level, then in the mid-majors, and eventually landed on the staff at Georgia Tech and then with Sonny Smith at Auburn — on the team that was one possession away from a Final Four appearance.

It was a kind of nomadic basketball life, going from program to program. But it was an exciting and fulfilling life.

II saw this picture he had of some basketball camp he was helping with and sitting next to him was Magic Johnson on one side, and Isaiah Thomas on the other," Taylor said.

"He was fiery little guy," Stamey said. "He was small and wiry guy. Full of energy. And he was a great baseball guy."

Nidiffer introduced hitting "fungos" in the infield to the Dragons and typically threw batting practice.

"We're looking at this little ball and thinking, 'What is this?'" Stamey laughed while recalling fungos at batting practice.

Taylor pointed out that after Nidiffer left Clinton he never coached baseball again, though.

"He put more into coaching basketball," Taylor said. "He was a baseball player, but I think he knew his future was going to be in coaching basketball."

The Nidiffers were a lot of things to a lot of people: Coach, mentor, teacher. Katie Nidiffer was a teacher at Clinton Elementary School. In less than the 10 years the Nidiffers were in Clinton, they touched the lives of a lot of people.

Then there's Raleigh Boulware.

In the early 1960s Raleigh Boulware broke the "color barrier" for high school basketball in the south.

Jay Nidiffer was his coach.

"That was big," Taylor said. "Think about it, Clinton was two or three years past having its high school bombed. It didn't matter to us (Clinton players), but there were a few teams that refused to play us because we had a black player."

It didn't matter to Nidiffer, either.

"He treated everybody the same," Stamey and Taylor agreed. "Practices were just brutal, intense. But he got the best out of you. And it didn't matter if you were the star player of the last guy on the squad."

Boulware left Clinton High School, too. With a diploma and a future that includes being the head of an oncologist group in Columbia, S.C. — so it's Dr. Boulware now.

At Nidiffer's funeral service Taylor learned that Nidiffer talked at least once a month to Boulware, "Just to catch up."

Nidiffer, it seems, always kept in touch with Clinton. He'd "corner" NCAA referee Steve Pyatt at games and ask him what was happening in Clinton, what's so-and-so doing, just wanting to know what was happening here, Taylor noted.

Taylor said he remembers playing college ball in Alabama and sitting in the stands was his old coach.

"He did that a couple of times," Taylor said. "I can't tell you how surprised I was. But it was nice."

Nidiffer "retired" from coaching and took over as the athletic director at LMU in 2004 and helped the school transition from NAIA to Division II in the NCAA. He retired from LMU in 2007, but was known to show up campus events and to "stay in touch" with those he shared time with at the school.