Lady Mavs host 2019 'Play Day'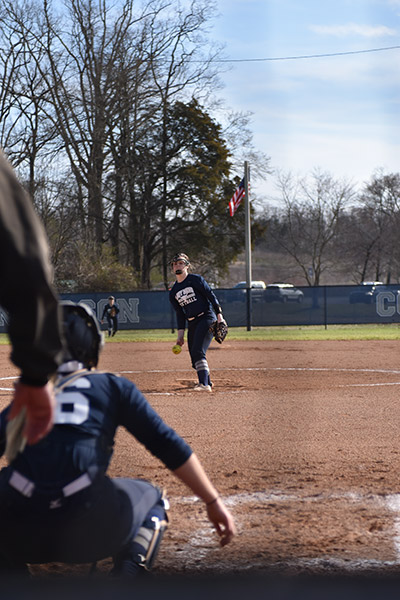 The Anderson County Lady Mavericks Softball program started their 2019 preseason off with a bit of kindness, and some wins.

This year's preseason playday was scheduled to be hosted by the defending AAA State Champions—Powell High School. However, after the week of pouring rain, which left much of Knoxville flooded, the Lady Panthers found their diamond under water.

The Lady Mavericks program was kind enough to not only host the playday, this past Saturday, but also let Powell run the admissions entrance. Thus. All the proceeds generated at the gate went back to the Lady Panthers softball program and to fix their field.

In the Lady Mavs first game of their playday triple-header, Anderson County topped Maryville for a 3-0 win.

Senior pitcher Hannah Bruce allowed just one hit, no runs, and three K's in the shutout win. Freshamn Leah Freeman would score the Lady Mavs' first run, when she blasted a line drive over the right field fence. Freeman, Bruce, and Mallorie Overton all earned one hit each for the Lady Mavs.

Anderson County's second contest of the day against Jefferson County would also end up in favor of the Lady Mavs, 5-2. Hannah Freeman would earn the win in the circle for Anderson County. Freeman struck gave up two runs on four hits over four and two-thirds innings.

The Lady Mavs' bats compiled for eight hits against the Lady Patriots. Leah Freeman and Emily Fowler each had two hits, and Jada Reeves, MaKenzie Jones, Aundria Long, and Abbie Buswell all have one hit each.

In Anderson County's night-cap, the Lady Mavs defeated Daniel Boone 5-1. Hannah Bruce earned her second win of the day, Bruce struck out three, and allowed one run on no hits, and no walks over three innings.

Anderson County put three runs in the third inning to pull away. Mackenzie Jones led the Lady Mavs, going two-for-three at the plate with two hits. Emily Fowler went two-for-two with one hit and two RBIs. Buswell, Long, and Bruce all tallied one hit each in the win.

The Lady Mavs' opening day will be at home, on March, 11th, against the Lady Wildcats of Oak Ridge High School.