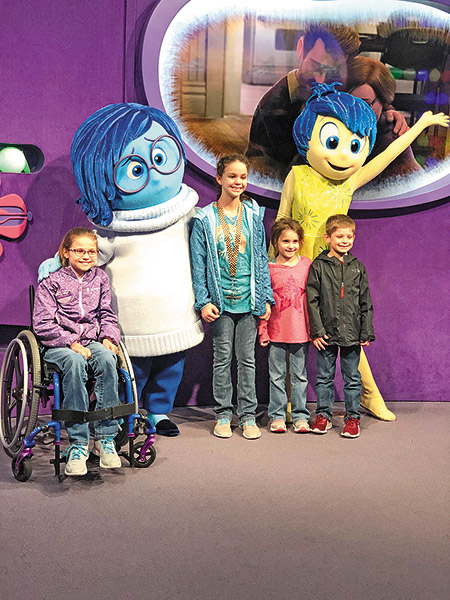 A little over a year ago, 11-year-old Nevaeh Thomas was one of four rambunctious children living with their mother, Heather Shepherd. Shy but friendly, Nevaeh loved talking with her friends and playing dress up.

Nevaeh, a former Norris Elementary student, moved to West Hills with her family shortly before life came to a screeching halt in January of last year.

She had been battling a nasty upper respiratory infection that left her weak and exhausted, so when she complained to her mom that she was having trouble walking, Shepherd attributed it simply to that.

But when she woke up one morning with her leg hurting and later, numb, they rushed to the hospital.

The next day, Nevaeh couldn't feel anything from the chest down.

"Her body attacked itself while she was so sick," Shepherd explained.

At first, doctors thought it was meningitis. Then, they thought it could be Guillain-Barre Syndrome. They considered that it could have been a side effect from the flu vaccine, but tests showed that there was nothing attacking her body other than itself.

Transverse myelitis is the current diagnosis.

"That's a generic term for the inflammation of her spine," Shepherd said.

It's an autoimmune disorder characterized by inflammation of both sides of one section of the spinal cord, according to the Mayo Clinic. It damages the material surrounding nerve cells.

Symptoms can appear rapidly, like they did with Nevaeh, or they can take a few weeks to appear.

Nevaeh got sick the same year that a "polio-like" illness outbreak was in the news. Her condition is similar, but not identical. That disease is called acute flaccid myelitis, and they ruled that out for Nevaeh. However, both share the symptoms of sudden onset paralysis; hence the comparison to polio. Cases of myelitis started spiking in 2014; there have been 386 new cases of acute flaccid myelitis since then. The difference between the two diseases is the level of paralysis. Most children with acute flaccid myelitis are paralyzed from the neck down. For those with transverse myelitis, it doesn't affect the upper portion of the body as much.

"They're still doing testing for everything," Shepherd said. "They don't really have a definitive answer of what may have caused this."

It's not contagious like polio, but it is paralyzing and life altering. It affects all people differently, according to Shepherd.

"Some people have gotten some feeling back, some haven't," she said.

Nevaeh has not gotten any feeling back, and since myelitis is not common, medical care has been an uphill battle. Medicare covers most of Nevaeh's medical bills, but most doctors who have experience in treating patients with conditions like hers are out-of-state, and Medicare does not cover out-of-state medical providers.

Dr. Benjamin Greenberg at Southwestern University in Texas specializes in pediatric neurology and is the deputy director of the transverse myelitis and neuromyelitis optica program.

Shepherd would love to have even just a consultation with him.

But just getting to Texas is a financial burden the family can't take on, much less the out-of-pocket expenses.

Nevaeh is small but mighty. She wakes up at 5 a.m. every morning to prepare for the day. Simple things like bowel movements have to be scheduled and planned around, according to Shepherd.

"She can't really participate with stuff in gym," she said. "She can't go to the playground, and nothing [at the playground] at West Hills is wheelchair accessible. She reads or talks with her friends."

Her bedtime routine takes an hour as well, and she's exhausted at the end of each day from the constant physical toll of pushing herself along in the wheelchair.

"She holds up pretty well in public. She doesn't really want to let people see her struggle, but she struggles a lot," Heather said. But she's not ready to accept this new way of life for Nevaeh just yet. Shepherd has seen people regain feeling and movement through spinal implants and stem cell therapy, but, again, those aren't options in Tennessee.

Right now, they live in a two-bedroom apartment. Shepherd is saving up for a down payment on a house that would be wheelchair accessible and easy for Nevaeh to get around. It's a challenge even to visit with friends, since most bathroom doors aren't large enough for a wheelchair.

They have the opportunity to go to Washington, D.C., with West Hills Elementary's safety patrol, but the cost is a challenge. For information on how to donate money for the trip, email crystal@mycouriernews.com.