Anderson County bats ignite in fourth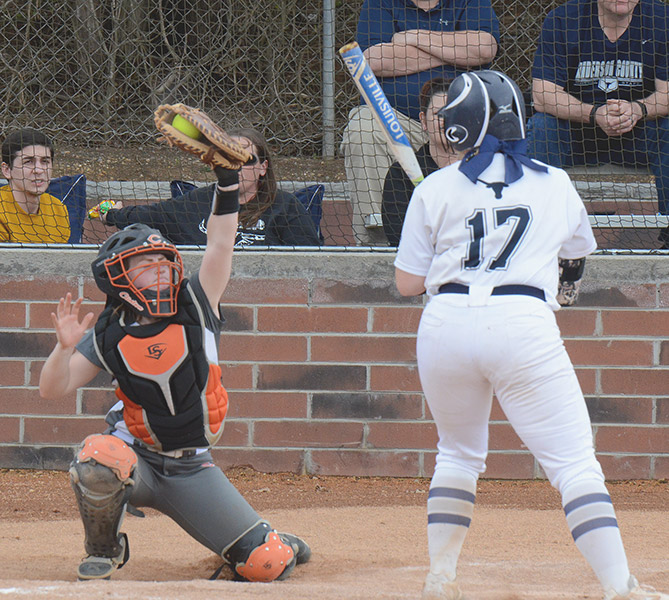 The Lady Mavs Softball team came to play last Friday, as Anderson County defeated archrival Clinton, 16-1 in four innings.

The Lady Dragons would draw first blood in the top of the first inning. Sarah Burton would hit an RBI groundout, which scored senior right fielder Sara Hammitt from third.

However, Clinton's 1-0 lead would not last long. In the bottom half of the first, with Mallorie Overton on first, facing a full count, Fowler launched a two-run two-out dinger to center.

With a swing of Fowler's bat, the Lady Mavericks took a 2-1 lead.

After holding the Lady Dragons scoreless in the top of the second, Anderson County would add another run in the bottom half of the inning.

After getting walked, senior Kenzie Jones would steal second to put herself in scoring position. Then, Jada Reeves laid down a sacrifice bunt, which moved Jones to third.

Overton would return to the plate, for her second at-bat, and would seize the opportunity. Overton roped a 3-1 RBI-single to right field, to bring Jones across.

Overton's RBI gave Anderson County a two-run lead heading into the third.

After a scoreless third inning, the ballgame headed into the fourth inning, with Anderson County holding onto a 3-1 advantage.

However, in the bottom of the fourth, the Anderson County bats would catch fire.

Anderson County poured on 13 runs in the bottom of the fourth to run-rule Clinton.

The Lady Mavs offensive onslaught was capped off when Fowler smashed a line drive two-run shot to center—her second homerun of the game.

With a 15-1 lead, and needing one more run to reach the run-rule mark, senior pitcher Hannah Bruce stepped up to the dish.

Bruce drove the first pitch of her at-bat over the left field chain-link, to seal the win.

Fowler and Overton led the Lady Mavs offensively.

Fowler finished the game 3-for-3 at the plate, with four RBIs on three hits—two homeruns and a single.

Overton finished 3-for-3 as well, with four RBIs on three hits—a single and two doubles.

Hannah Bruce earned the win in the circle for Anderson County.

In four innings, the Maryville College commit faced 16 batters, and threw 28 strikes out of 42 pitches.

Bruce gave up three hits, one run, walked one, and struck out one.

This week, the Lady Mavs travel to Oak Ridge on Wednesday, Campbell County—for a double-header—on Thursday, and will wrap up the week with three games over the weekend at the Gibbs Tournament.

The Lady Dragons will look to return to the win column, as Clinton will travel to Karns on Thursday.