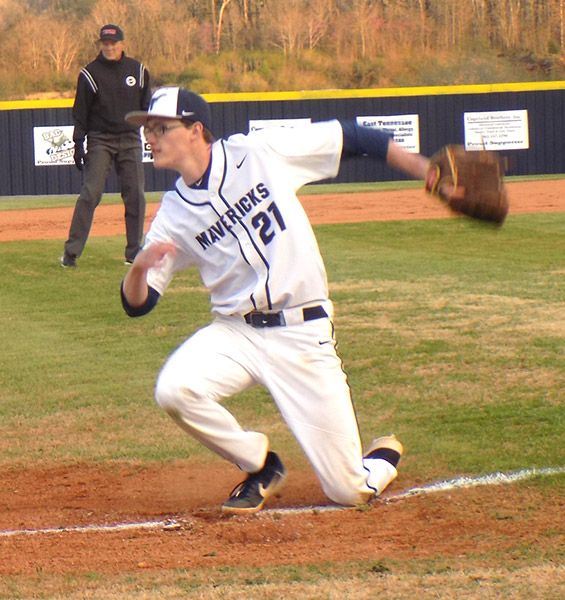 The Anderson County Mavericks outscored district powerhouse Karns 7-4 Monday, April 1 at Murrel Albright Field as winning pitcher Ryan Moog struck out nine Beavers during his four and a third innings of work.

Moog allowed four runs on five hits while walking three.

Reliever Denver Hubbard finished the job on the mound as he held the Beavers scoreless over the final two and two third innings.

Giving up three hits and walking one while striking out four, Hubbard struck out the side in the seventh to clinch the Mavs' victory.

Andy Fox and Tyler Phillips stroked two hits apiece. The Mavs scored two runs each during the first three innings before adding another run in the fifth.

Offensive highlights were a two-run first-inning single by Luke Lowery, three straight singles by Caleb Wilhoit, Preston Seiber and Eli Varner to start the second inning, Varner's RBI single in third and Phillips' fourth-inning single to drive in the Mavs' final run.

Karns prevailed in the second game, winning 2-1 on its home field Tuesday, April 2.

Jackson Muncy struck out 10 Beavers over his six innings during his complete-game effort.

Muncy relinquished two runs on five hits and walked three. Foust and Wilcox were the only hitters for the Mavs with one safety apiece.

Foust singled home Devin Wilcox for the Mavs' lone run.

The Mavs defeated South Doyle 4-3 Friday, April 5 in their first of three games in the Clinch River Classic played at Albright Field. Pitchers Fox, Hubbard and Seibercombined for the win. Winning pitcher Hubbard struck out eight while Fox fanned four. Seiber, who was credited with the save, and Phillips collected two hits apiece. One of Phillips' hits was a double.

The Mavs and Sequatchie County played to a 3-3 tie Saturday, April 6 in a game called after eight innings due to time limitations. Varner, Cole Foust and Ryan Moog spent time on the mound as the threesome combined for nine strikeouts. Varner finished with four Ks while Moog fanned five.

Trailing 1-0, AC's scoring started in the second inning as Wilhoit singled, Seiber walked and Varner collected a bunt single single before Wilcox was hit by a pitch to score Wilhoit.

After the Indians went ahead 2-1, the Mavs scored twice in the fifth as Fox tripled and scored on Phillips' double. Phillips went to third on a steal and scored on a double steal with Wilhoit, which was aided by an Indian error.

The Indians tied the score in the visitors' seventh. The Mavs could only reach base

one more time before the game was called. Moog struck out the side in the visitors' eighth.

The Mavs suffered a 7-5 loss to Webb during Saturday's finale. Fox struck out seven Spartans, but the Mavs were hurt by shoddy fielding resulting in five errors. Fox singled home Varner in the second, Wilcox later reached on a walk, stole second and scored on a wild pitch. After Webb scored four in the fourth, the Mavs came back as Connor Tackett walked and Wilcox reached on an infield error. Tackett scored on a wild pitch and Hayden Hartgrove's bunt single plated Wilcox. Foust plated Hartgrove. Trailing 6-4 in the fifth, Webb scored thrice.

The Mavs left eight runners on base.

The Mavs play Union County in a home-and-home series this week with a 6:30 p.m. home game Thursday and a 5:30 p.m. Friday game in Maynardville.

The Mavs will play Cumberland Gap at 4 p.m. Saturday at Smokies Stadium in Sevierville.

Next Monday and Tuesday will be a home-and-home series between the Mavs and Clinton Dragons.

The teams play at Albright Field Monday and at Jaycee Park Tuesday. Staring times each night will be 7:30.