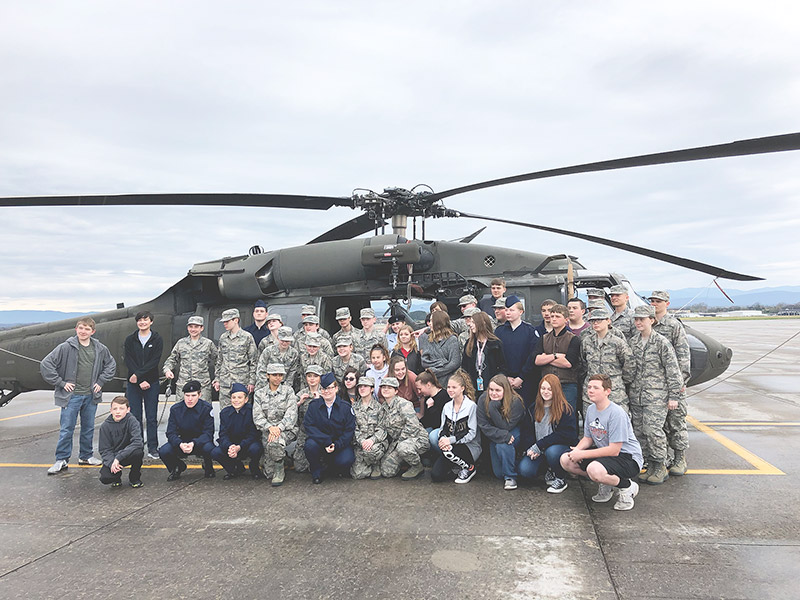 Back again ... With more stories from the halls of YOUR hometown middle school.

You will find short pieces below related to areas of learning and fun in our building from Classes and Sports to Hawk Life, Student Spotlight, and our new focus on College & Career awareness.

Showcasing a wide variety of the positive happenings at Clinton Middle School: College and Career Academy (CMCCA) is Hawk Talk's first priority.

This week's column is all about the 8th grade. The transition to high school is starting...now!



CHS JROTC inspires 8th graders

by Jackson Brewer, Jacen Pride, Tanyan Pollard, and Ethan Slaven

JROTC is a club at Clinton High School that teaches leadership and responsibility to help students prepare for their future.

In this program, they also do community service and develop friendships with other members.

The current club members of JROTC have done many things for the students at Clinton Middle School this year. Most recently, they gave an informative and inspirational presentation and started coming over during afternoon club time to teach about the program.

Last week, JROTC members invited qualifying students who want to participate in the program next school year along with them to the McGhee Tyson Air National Guard Base.

We interviewed the CMS student, Andrew York who attended the visitation trip and he replied with the following, "It was pretty cool because you wouldn't usually be able to enter an Air Force base."

We are so grateful for the support this high school program has offered us at CMS.

Registering as Dragons

by Hunter Evans

Our proud 8th graders are signing up for their high school classes.

As our year comes to an end, the class of 2023 is ready to move on!

Hunter Evans, a Clinton Middle 8th grader, said, "The signup process is quick and easy and the school has a lot for me to grow into what I want to be."

Many of our eighth graders are ready for their high school education. We know they will grow into amazing people!



8th Grade falls in love with The Crossover

by Catherine Meredith, Emilee Metcalf, Kira Murphy, and Tara Pickel



Over the last week, our 8th Grade Hawks have been reading The Crossover by Kwame Alexander. The book explores the growth of Josh Bell (a fictional boy) and the prominent events and relationships of his 13th year.

We spoke to 8th Grade ELA teacher Kevin Powers, who told us that this book works so well "because it's such a fast read and rhythmic and fun to read that kids that normally don't like to read enjoy reading."

One student, Wyatt Csutoros says, "I think it's a really good book. It puts you in the game and lets you see what it's like. The form helps you put yourself into the story."

CMS keeps on making reading fun for all students.

Until next week...