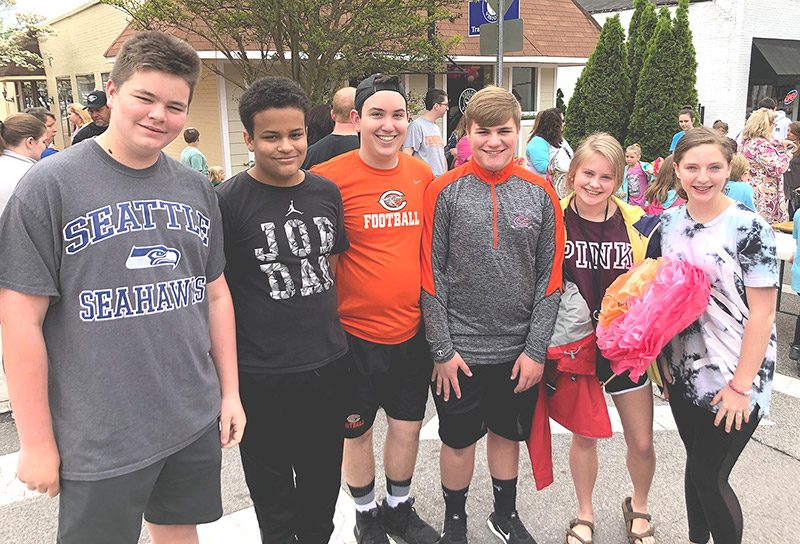 Back again! With more stories from the halls of YOUR hometown middle school.

You will find short pieces below related to areas of learning and fun in our building from Classes and Sports to Hawk Life, Student Spotlight, and our new focus on College & Career awareness.

Showcasing a wide variety of the positive happenings at Clinton Middle School: College and Career Academy (CMCCA) is Hawk Talk's first priority.

This week's column is all about the 8th grade. The transition to high school is starting...now!



Fun Times at the 1st annual Blooms Day

by Hawk Talk Staff



Members of our very own reporting staff attended this past Saturday's Blooms Day festival on Market Street in Downtown Clinton with one goal and one goal only (maybe 2?): To compete for the top spot in the Pie Eating Contest.

Eighth Grade reporters Preston Duerr, Hunter Evans, Dawson Woodard, and their friend Riley Webb joined editorial staff member Morgan Campbell in taking on those delicious pies furnished by Apple Blossom Cafe.

We came up short in the end, but we did get to make a good mess and support our community (our 2nd goal)! We look forward to next year's event.

Spreading 'Wings of Hope'

by Catherine Meredith, Emilee Metcalf, Kira Murphy, and Tara Pickel



Clinton Middle is spreading their "Wings of Hope" by packing and donating backpacks for the less fortunate.

Our community service organization, Hawks Helping Others, has prepared backpacks filled with the basic necessities, such as wipes, band-aids, toothpastes, blankets, snack foods, and other miscellaneous hygiene items to be donated to the homeless.

Nicole Patalano, seventh grade science teacher and head of the club says, "It is a good opportunity for our club members to do something for their community.

"It provides a chance for them to see the types of different people that are located around them."

CMS is proud of their helpful Hawks, and we hope to see them continue to do these great deeds in our confined community in the future!



7th Grade digs into historical fiction

by Jackson Brewer, Jacen Pride, Tanyan Pollard, and Ethan Slaven



The 7th Grade students are working on a new unit in ELA. They are currently diving deep into the story Code Talker.

We interviewed Mrs. Clark a 7th grade ELA teacher and she replied with the following, "Code Talker is about determination and to stay true to yourself." We asked her if she would recommend this book to other students, "Sure, especially if you need a historical fiction or if you are into World War ll."



Testing Season is here….

by Hawk Talk Staff



TNReady testing season is upon us, and it is time to start getting into that particular mode. By the time this hits newsstands, we will have already taken the TNReady TCAP Writing Assessment.

Here is a final reminder of Clinton Middle testing dates:

Wednesday, April 24 —English Language Arts (ELA), Subparts 2 and 3

Thursday, April 25 — ELA, Subpart 4 and Mathematics, Subpart 1

Monday, April 29 — Math, Subparts 2 and 3

Tuesday, April 30 — Social Studies

Wednesday, May 1 — Science*

Please make sure you give the Hawks in your life a boost of confidence as they tackle these challenging tests of knowledge and ability.

*Note: Clinton Middle will be administering all tests on paper with the exception of Science, which will be taken online.

Until next time...