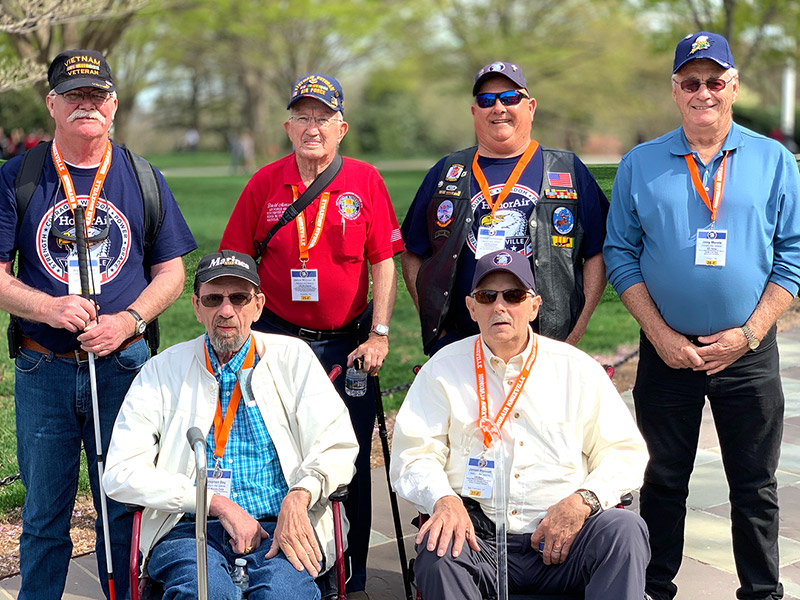 When the HonorAir Knoxville flight landed in Knoxville the evening of April 10 it successfully completed 27 flights taking more than 3,600 East Tennessee veterans to Washington, D.C., to see the memorials built to honor their sacrifices.

Six Anderson County veterans took part in the April 10 trip: Stephen Day, James Hannah Back, Archie Seiber, James Monroe Jr. Robert Cummings and Jerry Moretz.

HonorAir Knoxville was established and is presented by Prestige Cleaners and Prestige Tuxedo. Covenant Health has been a major sponsor of each of the flights taken to date.

The program is dedicated to taking as many East Tennessee World War II, Korean War, and Vietnam War veterans as possible on this special trip. The one-day, all expense paid trip includes a chartered flight and tours of the World War II, Korean War, Vietnam War, Marine and Air Force Memorials.

Scouts from the Smoky Mountain Council were on hand to greet veterans as they arrived at the airport in the morning. After proceeding through a military Honor Guard from the Knoxville Military Entrance Processing Station, the veterans received a send-off at McGhee Tyson Airport at which Mayors Madeline Rogero and Glenn Jacobs participated.

Former University of Tennessee quarterback Joshua Dobbs currently with the Pittsburgh Steelers served as an escort on the flight.

While the group was in Washington, D.C., they laid a wreath at the Marine Memorial honoring Medal of Honor recipient Karl Taylor, brother of Walter Taylor a veteran on the flight.

According to Eddie Mannis, President of Prestige Cleaners and Prestige Tuxedo and Founder and Chairman of HonorAir, "Over the years the program has become a community event.

"In addition, more than 1,000 people come to the airport to welcome the veterans home after each flight."

"Our partnership with the Smoky Mountain Air Show and the generosity of many businesses, organizations and individuals have made it possible to continue honoring the contributions veterans have made to ensuring our freedoms." said Mannis.

"However, the program costs about $300,000 annually. Its future depends heavily on the support of the community"

HonorAir is a 501 (c) (3) so donations are tax deductible.

Prestige provides all administrative support so every dollar donated is applied directly to the cost of the flight.



A flight is scheduled for October 2, 2019. Any World War II, Korean War or Vietnam War veteran interested in taking a future HonorAir Knoxville flight should apply at www.honorairknoxville.com.