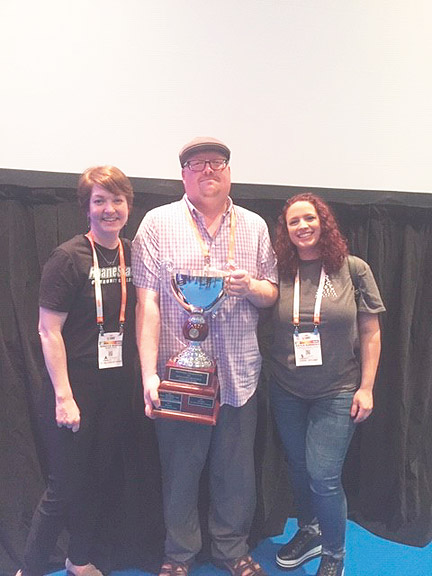 Roane State Community College student Zach McDaniel recently won a national event where opticianry students compete in a "Jeopardy"-style format to answer technical questions about the eye, glasses and contact lenses.

Zach McDaniel, 38, a second-year student in the college's Vision Care Technology program, "delivered an outstanding performance among a group of impressive participants," said Rebecca Morton, program director.

"He blew away the competition in the second round," Morton said. For his efforts and technical knowledge, McDaniel won $500, and the college was awarded a national trophy for display over the next year. McDaniel's name is now inscribed on it, Morton said.

The annual competition is sponsored by the global company HOYA, which has been making eyewear for decades.

McDaniel is a Knoxville resident and was recently named the college's "Opticianry Student of the Year."

"He made a great impression on his fellow students and colleagues and he did a fantastic job representing our school," Morton said.

Also making the trip and cheering McDaniel on were fellow Vision Care Technology students Jordan Harris and Kayla Sommerio.

The National Federation of Opticianry Schools' College Bowl was held March 23 in New York City as part of Vision Expo East. The annual conference was attended by 15,000 eyecare professionals, of which 3,500 were optometrists, opticians and optical technicians. "This is the biggest optician gathering in the nation," Morton said.

McDaniel was the sole Roane State student in the competition against representatives from "eight very tough, competitive" schools with opticianry programs, Morton said. She said only 23 institutions nationwide offer those programs.

To learn more about the Vision Care Technology program, visit roanestate.edu/visioncare or contact Morton at (865) 354-3000 ext. 4930 or mortonrm@roanestate.edu.

Roane State is a two-year college providing transfer programs, career-preparation programs and continuing education. Founded in 1971, the college has campuses in Crossville, Harriman, Huntsville, Jamestown, Knoxville, LaFollette, Lenoir City, Oak Ridge and Wartburg.

For more information, visit roanestate.edu or call (865) 882-4554.

Remember, eligible adults can now attend Roane State tuition-free with the new Reconnect grant. Learn more at roanestate.edu/reconnect.