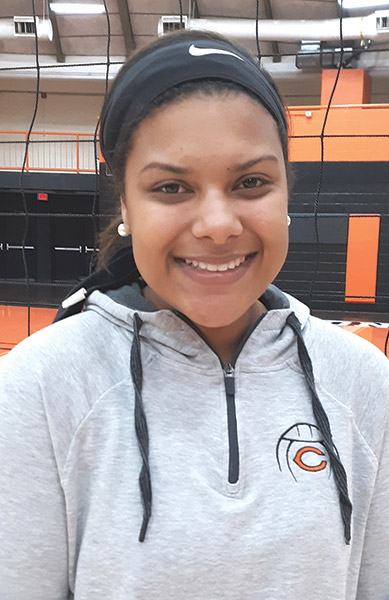 Kimmiyah Woodard has a contagious smile — a bright smile that probably makes the sun jealous.

It's hard to imagine her not smiling.

"I think I'm outgoing and positive," she said.

And that demeanor doesn't change when the senior Lady Dragon gets on the volleyball court for Clinton High School.

It's who she is.

She has one pre-game ritual — whenever the Lady Dragons start warming up fellow senior Abby Bowling has to be in front of her in the line.

"I'm not sure how that started," Woodard laughed.

She said she has a lot of nicknames, but the one her teammates have stuck her with seems to be the one most used: "Kamika."

Another laugh, "Don't ask me why."

She's played volleyball for five years and prefers to play against teams she's not familiar with. She said there is a little more pressure to have a great game when you go against people who know you.

Eight quick questions:

If you weren't playing volleyball you'd be …

Probably just working after school every day.

What music are you listening to now?

A little bit of everything, honestly.

Last book you read?

The Help.

What do you do to relax?

Listen to music or watch Netflix.

If you could have a conversation with one person, alive or dead, who would it be?

Definitely my dad.

Best memory as a child?

Visiting family and going to the beach every year.

Best day of the week?

Most definitely Saturday.

Favorite teacher?

Mr. Weaver

Twenty years from now you want to be remembered for …

Always being the person others can rely on.