'Jet lagged' Mavs air it out in win at Howard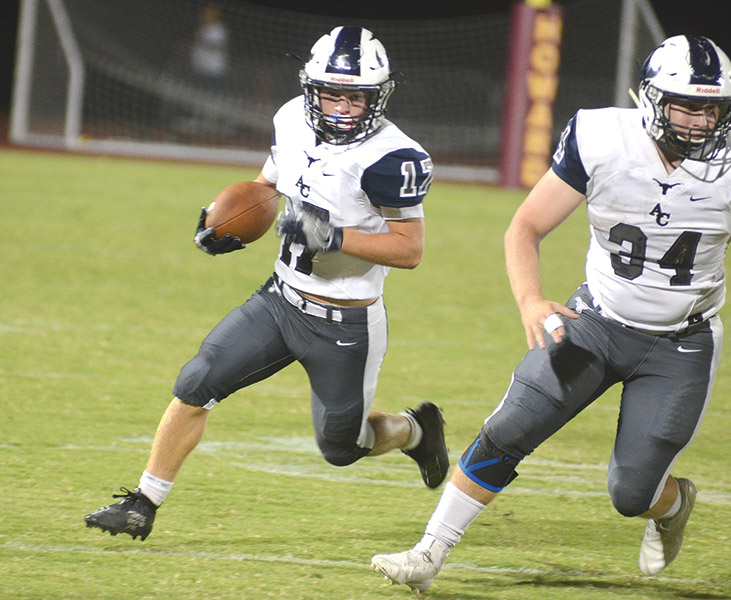 Anderson County High School fans might have thought they were at the wrong game Friday night.

After one quarter of play the Anderson County High School Mavericks were tied with host Chattanooga Howard, 0-0.

But after the first quarter the Mavs "righted" the ship and cruised to a 42-0 region win.

"Maybe we had jet lag early … We started a little slow," Anderson County Head Coach Dave Gillum said after the win.

"They (Howard) loaded up the box to try and shut down our running game," Gillum said.

So, the Mavs responded via the air.

Anderson County's first four scores came through the air: Stone Hatmaker connecting with Cam Thomas, Austin Elliott, and Bryson Vowell (twice) to build a 28-0 cushion.

T.J. Holmes capped off a nine-play drive midway through the third with the first rushing touchdown on the night for the Mavs, covering four yards.

Mason Field added an eight-yard rushing score in the fourth.

Daniel Bethel was perfect on all six of point after attempts.

The Mavs didn't "right" the ship so much as learn to drive it Friday night.

A trio of starting offensive lineman missed Friday night with nicks and dings. One offensive playmaker was drafted to help the team in another fashion and Gillum praised junior Stone Cummins willingness to fill in at offensive guard for the game.

And Gillum said it took some time — apparently one quarter — to adjust, not just to Cummins' absence as a playmaker, but to adjust to "a lot of kids rotating in at receiver."

By the end of the night the Hustlin' Tigers didn't know which receiver to hustle after.

Six Anderson County receivers caught passes; Hatmaker accounting for 329 yards on 16 or 24 passing attempts with four touchdowns.

Walker Martinez added another 15 yards.

Ellliot had six receptions for 122 yards, including 51-yarder as time expired in the first quarter. His grab set up a Cam Thomas grab from Hatmaker of 28 yards on the first play of the second quarter and also unleashed the storm.a

The ground game was not flashy, just punishing. Holmes, senior Brandon Seidner, Junior Joshua Godwin Miller, and even freshman wideout Bryson Vowell picked up crucial first downs for the Mavs.

Defensively the Mavs had its collective hands full with Howard's Davontay Smith, who rumbled for 119 yards against Anderson County.

On the night the Hustlin' Tigers rushed for 228 yards.

"Every opponent is a little different," Gillum said.

Howard was able to find some success running, but couldn't muster any threat through the air, completing only three of 17 attempts for 30 yards.

Four sacks and consistent harassment from Waylon Harris, Matthew Murphy, Gage Terry, and especially Tanner Goins (who recorded three of the four sacks) turned Howard's two quarterback rotation into a two additional running backs rotation.

"We kept them out of the end zone, which is good," Gillum said.

"The team is progressing," Gillum said. "We're still in the process of taking on an identity.

"But the team is getting better and better.

"The O-line played really well, and it was good to see our twos and threes come in and play really well."

Maybe the Mavs haven't found their identity.

Yet.

But Friday night's version — the team that adjusted on the fly and did hard, gritty kind of work when needed, put on a pretty big show for being jet lagged.

It's going to be scary when they do find that identity.