Wilcats hold off Dragons in second half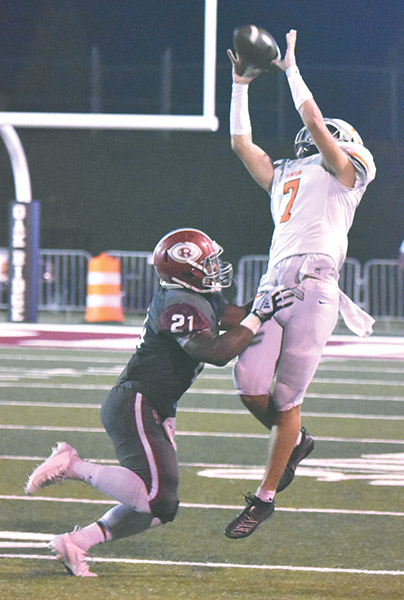 Clinton travelled to Oak Ridge this past Friday for their historic rivalry game against the Wilodcats.

It seemed the Dragons had a much better chance than last year as Oak Ridge's performance this season hasn't lived up to last year's high.

The Dragons had hoped to get their fourth win at Blankenship since 1940.

Unfortunately, it wasn't to be and Oak Ridge displayed a show of strength against their rivals, taking an early lead they maintained until the end, winning 27-14.

Clinton showed promise early in the game with a large rush for its first play, but after a series of setbacks, they began to fade.

During the second half, though, Clinton began to find their footing again, showing some promise with large plays and their first touchdown of the game. During the second half, Clinton really made a show of how close they actually were in skill to Oak Ridge, but it was too little too late, and with Oak Ridge already holding a 21-point lead, they just couldn't catch back up.

Clinton scored two touchdowns in the second half, both carried by Trace Thackerson, with both extra points kicked by Noah Grumbach.

Penalties also plagued the game, with Oak Ridge pulling multiple unsportsmanlike conduct penalties and both teams repeatedly being penalized for holding. Clinton racked up 87 lost yards for eight penalties, while Oak Ridge lost 100 on nine flags.

Breaking down the stats, one would be surprised to see Clinton lost. The Dragons beat Oak Ridge in rushing yards, passing yards, and total yardage.

In rushing yards, they beat Oak Ridge 104-98, across 13 more attempts. In total yardage, they beat Oak Ridge 278-256, although, again, that was with 22 more plays.

They even beat Oak Ridge in return yardage, going 99 yards to Oak Ridge's 74. Clinton's Xander Allen had a strong show, rushing for 31 yards, followed by Blake Cooper and Josh Graham, who rushed for 23 and 20 respectively.

For passing percentage, though, Clinton fell behind, only completing 11/25 passes (44-percent) and throwing two interceptions across the game. Oak Ridge completed 11/16 (68-percent).

Clinton travels to West this week to play against the Rebels in a region game.

Kick-off will be at 7:30.