How a child's illness opened new doors for a family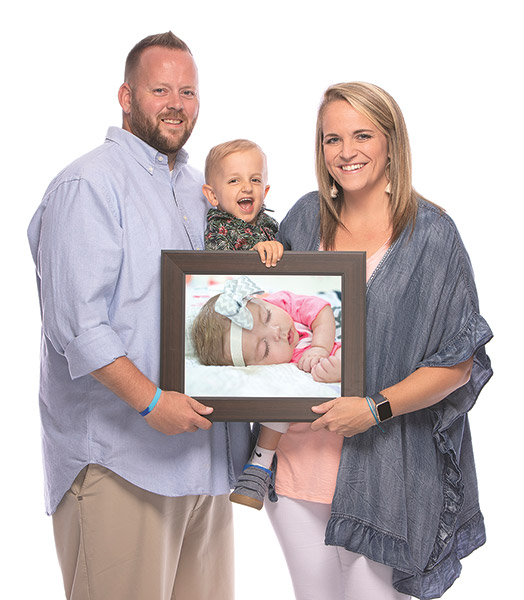 Journeys: Traveling a path from Point A to Point B; or a test of faith, a test of yourself, of your beliefs.

Here are some numbers for you: One in 100,000.

In 2014, those numbers became important to Christin Webb.

In March 2014 she accepted the head coaching position of the Powell High School Lady Panthers basketball team.

She also had a daughter. Less than a year later, her life turned.

"It was a God moment. You know, 'Why did this have to happen?'" Webb said.

She had a daughter, Mabry Kate Webb, the first child of Kyle and Christin Webb.

Mabry would not live a year.

Before the end of her first year as the PHS girls basketball coach Christin Webb, and her husband, Kyle, learned many things.

The cruelty of a disease, the compassion of strangers, the value of hard work.

"I spent that summer trying to figure out what was happening," she said.

What was happening was Mabry Kate had Krabbe Disease, a rare and usually fatal disorder.

Mabry Kate died a week before the 2015 Region Tournament.

Krabbe Disease is a rare and usually deadly disorder of the nervous system. It is an inherited genetic disease, which means that it is passed down in families. People with Krabbe Disease are not able to create enough of a substance called galactosylceramidase, which is needed to make myelin. Myelin is a material the body uses to surround and protect nerve fibers. Without this protection, cells in the brain will die, and the nerves in the brain and other parts of the body will not work properly.

Krabbe Disease is seen mostly in infants (onset by age six-months), but it can also develop later in life. Unfortunately, there is currently no cure for Krabbe disease, and most infants with this disease will die before age two.

Several things happened during this period.

During the 2014-2015 basketball season Webb said she witnessed the compassion of others. It started at a basketball game at Halls High School where players wore blue warm-ups rather than their usual red and black attire.

Blue is the color for Krabbe Disease awareness.

Other teams followed suit: Clinton, Anderson County High School, and a list of of other programs that showed support for Mabry Kate and the Webb family.

"There were just so many random acts of kindness," Webb said. "I knew there was goodness in the world, but I was overwhelmed by the outpouring.

"It makes you look at people differently."

Journeys.

The Webbs dedicated their time to Hunter's Hope, a non-profit organization set up by former Buffalo Bills quarterback Jim Kelly in honor of his son, Hunter, who had Krabbe Disease.

The foundation centers around family, Webb said. It's thrust is awareness and helping families with resources and information.

The main goal for the Webbs was to make Krabbe Disease part of newborn screening. Since that time Tennessee has adopted that into its newborn screening process.

The Webbs also moved to North Carolina.

A second child, son Owen, was born with Krabbe Disease, but thanks to the knowledge gained through their work with Hunter's Hope, they found hope.

Owen was treated at Duke University Hospital, undergoing chemotherapy treatments to fight Krabbe Disease.

Now 4-1/2-year old, Owen is a student at North Clinton Elementary School. He has mobility issues, but the Webbs have secured funding for a service dog for their son.

It takes two years to train the dog and then the Webbs will have to spend 12 days in Ohio taking classes to learn how the interactions between the dg and Owen work. It is also a time for the dog to get used to Owen.

The Webbs are "putting money back" for the 12-day session.

Christin Webb is back on the court now — she was named Head Girls Basketball Coach of the Lady Blaze this year.

But it's different now.

"I have to focus a lot more on fundamentals now," she laughed. "I have, in the back of my mind, Alicia Phillips."

Webb said she knows Phillips, the Lady Dragons basketball coach, as a competitor. But now there is a different kind of bond.

"When my players reach the high school level I want them to have the fundamentals," Webb said.