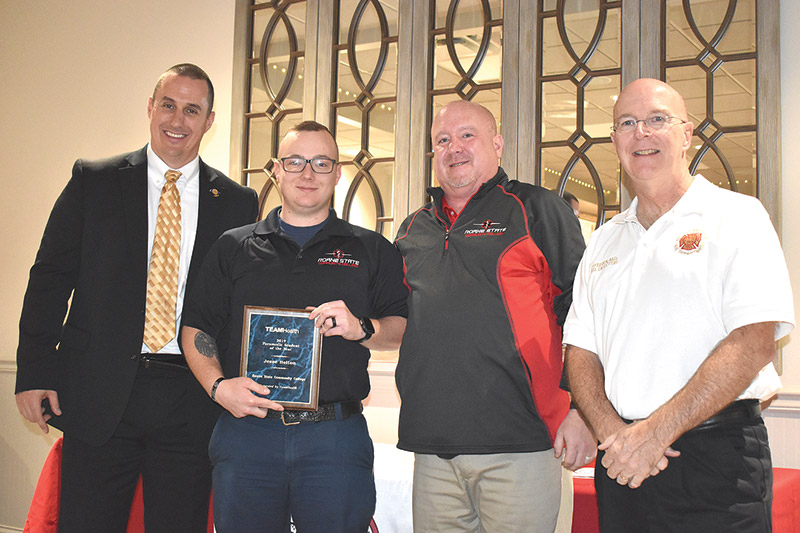 A dozen Roane State students who completed the community college's grueling three-semester paramedic program were honored during a recent luncheon, and one student was recognized by his peers as the Paramedic Student of the Year.

"You're the next generation," said David Blevins, Roane State's Emergency Medical Services education director.

"EMS is the tip of the spear" in emergency medical situations, Blevins said, telling the graduates, "You create calm out of the storm."

"To say we are proud of you is an understatement," said Roane State President Chris Whaley. "We know how hard you worked."

Named Paramedic of the Year was Jesse Helton, a Knoxville resident and an employee of the Rural/Metro Fire Department.

Helton had to take a leave of absence from last year's class because he had been called up for Army National Guard service, and he became injured in the interim.

The graduation luncheon marked the start of the 31st year of the partnership between TEAMHealth and Roane State to honor the hard work and dedication of these individuals.

Dr. Randall Dabbs, co-founder and president of TEAMHealth, provided the following comments to the graduating class: "The education, quality and partnership of our EMS and paramedics have always held a position of priority for TEAMHealth. Our clinicians count on your professionalism and expertise to help care for the East Tennessee Community."

This class began last January, and another paramedic training program commenced in August. Classroom sessions for the latest group were daylong events twice weekly, and students also spent 580 hours training at hospitals and in ambulances, said Tom Herron.

Herron is an assistant professor and clinical coordinator of the program. "It's really amazing how you watch them (students) grow by leaps and bounds," he said.

"I feel this group has taught me as much about myself as I've taught them."

"You're joining the ranks of the elite," Blevins told class members. "You're truly the special operations unit of health care."

Honored were Helton, Preston C. Bowers, Corey A. Dantzler, James W. Horton, Elizabeth K. Rollson, Justin Pierce, Steven B. Stout, Monika P. Cordell, Charles E. Justice, Aaron Noe, Michael D. Sills and Nathanael C. White.

Roane State is a two-year college providing transfer programs, career-preparation programs and continuing education.

Founded in 1971, the college has campuses in Crossville, Harriman, Huntsville, Jamestown, Knoxville, LaFollette, Lenoir City, Oak Ridge, Wartburg and Clinton.

For more information, visit roanestate.edu or call 865-882-4554.

Eligible adults can now attend Roane State tuition-free with the new Reconnect grant.

Learn more about the program at roanestate.edu/reconnect.