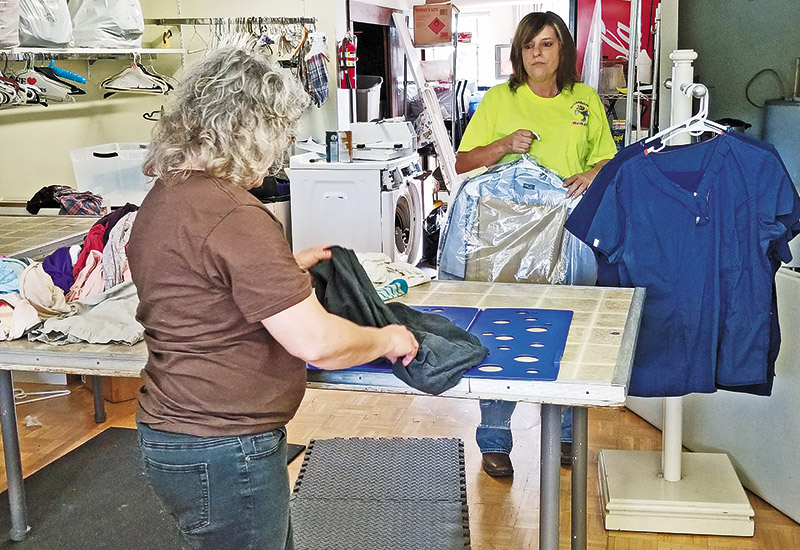 Doing laundry isn't an easy chore anytime.

And for those who need a laundromat to accomplish the task, right now's not a good time to go, as people are avoiding public places to keep from getting the coronavirus.

But Bob and Sally Burseth have just the answer for those unwilling or unable to go out to do their laundry, or who just need a break from doing it at home.

The couple, who run do-it-yourself laundries in Clinton and Oak Ridge, also operate the Washboard Wash & Fold in Oak Ridge. It makes pickups of dirty laundry at homes and businesses, then launders and returns the articles all in the same day.

"We've actually been offering this service for about two years, but most people aren't aware of it, and so we're trying to expand it," Bob Burseth said Monday. "Now is the perfect time, as lots of people really don't want to leave their homes.

"They call us, we come to their home, they leave their dirty laundry on the porch, we pick it up, we call them with the price on the phone," he said. "They pay over the phone or leave us a check. We wash, dry, fold and hang up the laundry, return it to their door. There is no contact between us and the clients."

The cost is $1.25 per pound, and for now, the company is waiving the usual fee of an extra 25 cents a pound for pickup and delivery, Burseth said. The delivery area includes Clinton and Oak Ridge, but ranges as far away as Rocky Top, Norris, Andersonville and Oliver Springs – in fact, most of Anderson County, he said.

Normally, turnaround time is about two hours. But with the increased demand now, that has extended to four or five hours, he said. "It's still same-day service, though."

The company has a four-person staff doing the laundry seven days a week. Burseth said the service isn't limited to people who don't have home laundry equipment.

"We have some customers homebound with breathing apparatus," he said. "Some mothers with three or four children don't have time to do laundry. And we do have gift certificates for special occasions, such as Mother's Day."

Some people would rather send their laundry out, and with the service he offers, the laundry might even be safer being done in his facility than at home right now.

"We are members of the Coin Laundry Association, and we get updates daily from the CDC [U.S. Centers for Disease Control]," he said. "They are advising us to help educate the public regarding the heat of dryers. Most people aren't aware, but the CDC would like you to sanitize your laundry in the dryer for a minimum of 20 minutes at 160 degrees.

"The problem is that most electric dryers in homes run only at 130-135 degrees," Burseth said. "Our dryers operate at 160 degrees or more."

Because of that, Washboard Wash & Fold is now even doing some laundry for medical facilities, he said.

The company also focuses on the special needs of senior citizens, Burseth said.

"Seniors have a kind of unique situation," he said. "They need their linens cleaned differently from most people. That is one reason the CDC is allowing wash-and-fold laundromats to remain open, in the interest of good health and hygiene.

"We also – and this is something we're seeing an increase of – are having people calling us from out of town, setting up weekly pickups for their parents, and we bill them on a monthly basis," he said. "That's so their older parents or grandparents can keep clean clothes and linens – any washable items, especially bedding."

The Washboard Wash & Fold facility is next door to Bob's Washboard Laundromat, at 120 Randolph Road in Oak Ridge.

The company also operates Bob's Clinton Washboard Laundromat on North Main Street, which is managed by Donna Smith. She also makes pickups and deliveries for the wash-and-fold service in the Clinton area, Burseth said.

There are 30 washers and 30 dryers at the Oak Ridge wash-and-fold facility, but Burseth said the company could use the Clinton laundromat if the Oak Ridge location becomes "overwhelmed."

Both of the self-service laundromats remain open as well, but they encourage customers to observe social distancing protocols while in those facilities.

Bob's Washboard Laundromat Wash & Fold can be found on Facebook for those who want additional information.