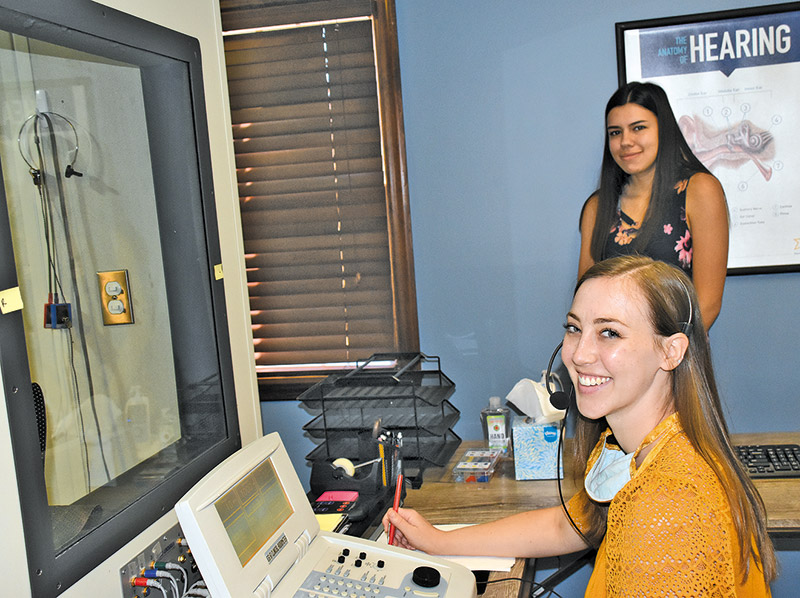 Bridgewater Balance & Hearing has opened in Clinton in the former location of Transcend Hearing, offering services including diagnosis and treatment of hearing loss and balance problems, the new operators said Monday.

Alexis M. Hill, who holds a doctorate in audiology, is the practice's resident audiologist. The office manager is Savannah Hermosillo, who has several years' experience managing audiology practices.

Owner of the clinic is Sally Baerman, who also has a doctorate in audiology. Baerman works at the main practice location in Knoxville. Besides Knoxville and Clinton, the practice has offices in Halls and Sevierville, Hill said.

The Clinton office is at 117 S. Charles G. Seivers Blvd., next to Sellers Realty. The previous audiology practice in that location was owned by Jeff Milman, who moved out of state, Hill said. Bridgewater opened its practice there June 1, she added.

"We specialize in disorders of hearing and balance," Hill said. "We diagnose and treat hearing loss, tinnitus, and auditory processing disorder. We work with newborns up to the elderly.

"We diagnose balance disorders such as positional vertigo and endolymphatic hydrops, which is an excess of fluid in the inner ear that can cause loss of hearing and dizziness," she said "We work with ear, nose and throat doctors for those balance disorders; we do the diagnostic testing; the ENTs do the medical management."

In the Clinton clinic, "We do diagnostic hearing tests, and we can clean and service hearing aids, we can reprogram hearing aids, and provide custom hearing protection for people such as hunters or music lovers," Hill said.

"We have an ANSI-standard (American National Standards Institute) sound booth for diagnostic hearing tests," she said. "We also have equipment for electro-physiological testing to assess different parts of the balance system and the integrity of the auditory nerve."

A hearing test with consultation "takes an hour to an hour and a half," she said. "We let patients demo anything they are thinking about purchasing."

She said insurance "typically covers the hearing exam and balance examination," but insurance payments for the hearing aids "depend on what is covered per the individual plan."

"Traditional Medicare doesn't cover hearing aids, but some Medicare supplemental plans do," Hill said.

"We get insurance information prior to the visit so we know what to tell the patient," she said.

"After the hearing test, we talk about what is appropriate for the patient, what the expectations should be, and what the long-term costs might be."

Hill is in her second year of practice after earning her doctorate in audiology in May 2019. She started working with Bridgewater in July 2019. She lives in North Knoxville.

"Moving to this office was a happy fit for me because I don't live too far away," she said. "And it's nice to help open a new office. Everybody has been very helpful."

Clinic hours for now are 8:30 a.m. to 5 p.m. Monday-Wednesday, closed on Thursdays and Fridays. Walk-ins are seen until 9 a.m. each day and from 4-5 p.m. Otherwise, patients need appointments, Hill said.

As for how the practice is going so far, "We were already servicing a lot of patients from the Oak Ridge, Clinton and Harriman areas," Hill said. "We are seeing some of them in Clinton now. That, plus absorbing patients from the previous practice, should keep us busy enough."

The practice is already hoping to add a second audiologist to the staff soon, and when that happens, it will also be open on Thursdays, Hill said.