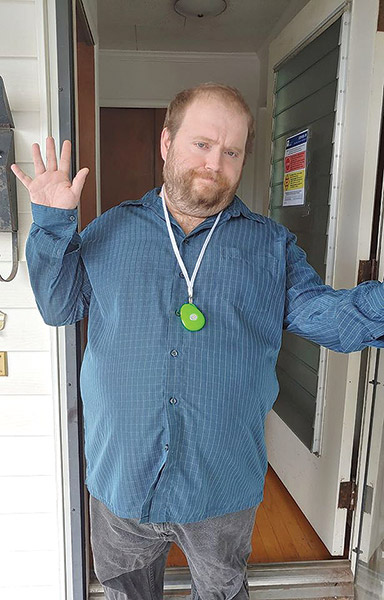 The MAXIMUS Foundation awarded Emory Valley Center a $3,000 grant to help deliver innovative programs to empower people and promote self-sufficiency.

With the MAXIMUS Foundation grant, Emory Valley Center was able to obtain employee training and credentialing and enabling technology for assisting the people it supports. The technology will be used in a tech center in the Caldwell-Thompson building to demonstrate the uses of the technology to people, their families, conservators and community partners.

"Emory Valley Center is very grateful to MAXIMUS for this grant," said Crystal Hicks, vice president of operations. "With this award, we were able to secure specialized training and credentials for employees so they can assist the people we support in learning and continued use of technology to help them lead more independent and meaningful lives in their community and at home."

A variety of technology is utilized at the Emory Valley Center tech center, including Echo Show, Alexa Smart plugs, Echo Dot, Ring Video Doorbell, Echo buttons, Smart lightbulbs, Echo Smart and more.

"Communities benefit when more of its members are engaged, encouraged, and supported. Emory Valley Center has a history of outstanding contributions in service to community development," said John Boyer, MAXIMUS Foundation chairman.

"Their work reminds us that an inclusive community is a vibrant, productive community. We congratulate and thank them for all of their accomplishments in service to others."

Since 1975, MAXIMUS has operated under its founding mission of Helping Government Serve the People, enabling citizens around the globe to successfully engage with their governments at all levels and across a variety of health and human services programs.

MAXIMUS delivers innovative business process management and technology programs that contribute to improved outcomes for citizens and higher levels of productivity, accuracy, accountability and efficiency of government-sponsored programs.

With more than 30,000 employees worldwide, MAXIMUS is a proud partner to government agencies in the United States, Saudi Arabia, Singapore and the United Kingdom. For more information, visit maximus.com.

As the philanthropic arm of MAXIMUS, the foundation extends the mission of the company by identifying and awarding grants to partners with specialized expertise to deliver results within the same populations and communities served by the public programs the company operates.

The MAXIMUS Foundation is completely funded by MAXIMUS and its employees and provides grants to local community organizations with programs and projects in the areas of child and youth development, health and community development.

Emory Valley Center has been meeting the needs of people with intellectual, developmental and physical disabilities in the East Tennessee community for 65 years, and currently provides a wide variety of services including behavioral health, community integration, education, employment, family assistance, pre-vocational training, and residential and senior services. This support reaches more than 1,400 adults and children monthly in multiple East Tennessee counties.

To learn more about Emory Valley Center and its programs and services, visit emoryvalleycenter.org; follow it on Facebook, facebook.com/emoryvalleycenter; Instagram, emory.valley.center; LinkedIn, linkedin.com/company/emoryvalleycenter/; and Twitter, @EVC_OakRidge for success stories, information and photos.