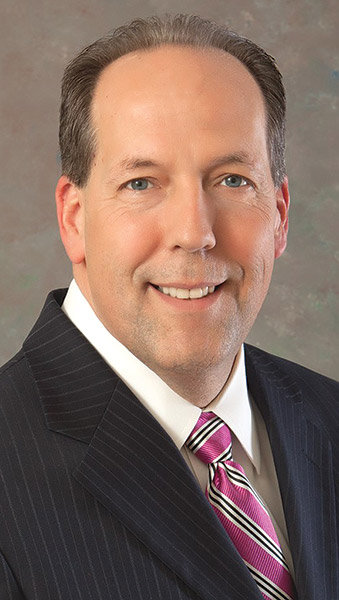 Anderson County native Steven A. Harmon, president and CEO of Community Electric Cooperative, has been elected to the board of directors of the National Cooperative Services Corp.

NCSC held its annual meeting on Aug., during which Harmon was elected by a vote of the membership of 430 electric cooperatives across the nation to represent District 1. District 1 encompasses the states of Connecticut, Delaware, Indiana, Maine, Maryland, Massachusetts, Michigan, New Hampshire, New Jersey, New York, North Carolina, Ohio, Pennsylvania, Rhode Island, Vermont, Virginia and West Virginia, and includes the District of Columbia.

Harmon, a 1980 graduate of Clinton High School, began his career in 1981 at Clinton Utilities Board, and has since progressed through the ranks from Carl Hashbarger's tree-trimming crew at CUB to now (since 2013) the president and CEO at Community Electric Cooperative in Windsor, Va. Harmon also serves as president and CEO of CEC's for-profit subsidiary, RECORE, LLC. Prior to his move to Virginia, he served from 2006-2012 as executive vice president and general manager at Pioneer Electric Cooperative in Greenville, Ala. Harmon has also since leaving CUB earned a bachelor's of business administration degree from Bryan College (Dayton), and an MBA from Auburn University at Montgomery (Ala.).

Harmon states as his greatest accomplishment having been married to Clinton native Nancy Painter Harmon since 1985. "She is the reason and the source of all my success," he said. "Without her 35 years of loyal support, none of these achievements would have ever happened".

Regarding NCSC, "I am honored to have been elected to join the board of directors and am pleased my colleagues have confidence in my leadership abilities," he said.

"NCSC is a highly effective lending institution that brings considerable value to electric cooperatives across the nation. NCSC has maintained a very sturdy fiscal position that will allow the continuance in offering competitive financing opportunities to those it serves, now and into the future."

NCSC is a privately funded, member-owned cooperative that began operation in 1981 to provide specialized financing services to utilities.

Its portfolio includes almost $700 million in outstanding loans to cooperatives, cooperative subsidiaries and investor-owned utilities, and its parent company boasts of a loan portfolio of more than $26 billion.

The organization has assisted cooperatives in expanding their reach through loans for telecommunications, broadband, non-electric products and economic development by providing competitive financing.

Providing loans for economic and business development through its associate loan program is another way NCSC helps its members become more competitive.

These loans provide the means for electric cooperatives, through their subsidiary organizations, to offer non-electric services to their members and invest in local community projects.

The organization is governed by a 10-member board of directors, democratically elected and representing five geographic districts that span and cover the nation.