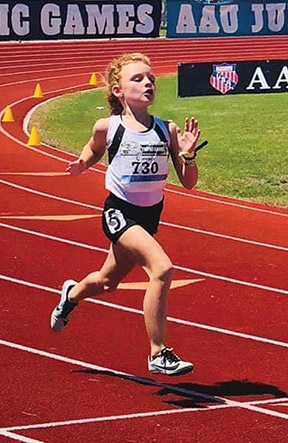 Lady Blaze sprinter Adeline Queener competed in the recent AAU Junior Olympics in Florida, breaking her own records.

She competed in three events, the 100-meter dash, the 200-meter dash and 400-meter run, placing nationally in all three events.

She finished 11th in the 100-meter dash with a personal best time of 17.48 seconds. She also posted a personal best in the 200, finishing in 17th place with a time of 36.55.

Queener also finished 17th in the 400, posting a time of 1:32.20 in the event held earlier this month in Satellite Beach.

She has been competing this summer amid the COVID-19 pandemic, which has made the season look different and has been difficult for athletes everywhere.

But Queener has persevered and had a successful season. She represented Knoxville Youth Athletics this summer and continues to have a bright future in the Blaze track and field program.

The Blaze and Lady Blaze cross country teams had their first preseason practice Thursday and had a turnout of 25 athletes. The Blaze and Lady Blaze teams are open to runners in grades 3-6 and sign-ups are continuing through this week.

Cross Country Schedule: The Blaze cross country is tentatively set to begin on Sept. 5 with the Victor Ashe Park Fall Classic. The season will go until late October. The Blaze will be at Cove Lake on Sept. 9 (elementary school meet) and Sept. 10 (middle schools meet). Clinton will be at Walters State-Sevierville Sept. 14-15.

The Blaze will be at Leisure Polls Meet Sept. 21-22.

The Blaze teams travel to Knoxville and Johnson University Sept. 28-29.

The area championships are on Oct.10 and the state championships are scheduled for Oct. 24.

Late addition: The Blaze recently added a practice meet on Aug. 31. It will be held at Norris Dam and is slated for a 6 p.m. start.

A Cross Country pancake breakfast will be held Sept. 19 at the Apple Blossom Cafe from 8-10 a.m. Cost is $5 and all proceeds benefit the Blaze cross country programs.

Basketball Record Book: Clinton City Schools Athletic Director E.T. Stamey has assembled a record book for the Blaze and Lady Blaze basketball team.

The Lady Blaze record for rebounds in a single game is seven.

It's shared by Kenzlee Hutchison and Abby Phillips. Both players pulled down seven boards in games last season.

The Lady Blaze record for assists in a single game is six, set by Josie Moody in 2018.

Archery Class: Stamey said that he plans on beginning an archery class for the 2020-2021 academic year,

Tennis Clinic: Stamey also noted that plans for a tennis clinic are in the works. It was originally scheduled for spring, but was scrapped due to the coronavirus pandemic.

Blaze and Lady Blaze continue to get community support. Stamey said that fundraising for the athletic program continues to flourish despite financial hardship caused by the pandemic.