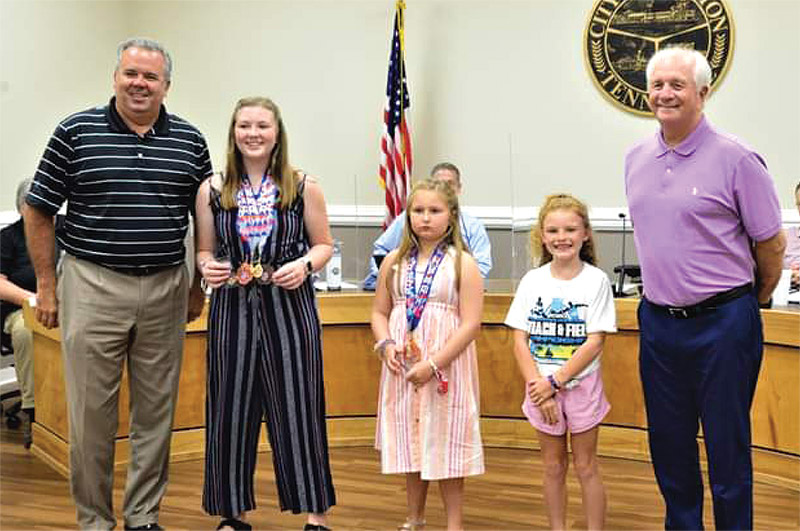 Three Clinton Lady Blaze track and field athletes, who recently competed in the AAU Junior Olympics in Satellite Beach, Florida, were honored by the Clinton City Council on Monday, Aug. 24.

Kenzlee Hutchison, Charlotte Hutchison and Adeline Queener were recognized for their accomplishments.

Kenzlee Hutchison competed in the shotput and the discus.

Charlotte Hutchison was in the shotput competition, while Queener competed in the 100-meter dash, the 200-meter dash and the 400-meter run, posting personal record times in all events.

Kenzlee Hutchison placed in the Top 10 in both the shotput and the discus, while Charlotte posted a Top 10 in her event.

Cross-country season set to begin: It's cross-country time in Clinton, and the Blaze and Lady Blaze have begun their preparations for the coming 2020 season.

The Blaze teams are coached by Terri Kerley. Uniforms were ordered recently, according to Clinton City Schools Athletic Director E.T. Stamey.

Cross-country schedule: The Blaze cross- country regular season is set to begin Sept. 5 with the Victor Ashe Park Fall Classic. The season will go until late October. The Blaze will be at Cove Lake on Sept. 9 (elementary school meet) and Sept. 10 (middle schools meet). Clinton will be at Walters State-Sevierville Sept. 14-15. The Blaze will be at the Leisure Polls Meet Sept. 21-22.

The area championships are on Oct.10 and the state championships are scheduled for Oct. 24.

The meets scheduled for Sept. 28-29 at Johnson University in Knoxville will be rescheduled for a later date. A Cross Country Pancake Breakfast will be held on Sept. 19 at the Apple Blossom Cafe from 8-10 a.m. Cost is $5 and all proceeds benefit the Blaze cross-country programs.

The Blaze soccer clinic will return this fall. It will be open to boys and girls in grades 1-6. The eight-week event is run by Knoxville-area soccer pro Chris Carroll. Cost is $119 and all equipment will be provided.

It will be held after school at the Clinton City Football Stadium.

The camp will teach fundamentals and rules of the game while also promoting physical fitness.

Athletes are to wear tennis shoes and athletic clothing.





For more information, contact Carroll Sports Academy at (865) 566-8948 or via e-mail at info@carrollsportsacademies.com.

Basketball Record Book: Stamey has assembled a record book for the Blaze and Lady Blaze basketball team.

The highest point total for a single game for the Blaze boys is 57 and that mark was set against Andersonville in 2019. Kaden Webber holds the single-game individual scoring record in a single game for the Clinton boys. He had 22 in a game against Episcopal School of Knoxville last season.

For the Lady Blaze, Jailie Rodd holds the single-game scoring record as she dropped 16 against St. Mary's in 2019.

Archery Class: Stamey said that he plans on beginning an archery class for the 2020-2021 academic year,

Tennis Clinic: The dates for the Clinton Blaze fall tennis clinic have been set. The camp will be held on Tuesdays from 4-5 p.m. at the tennis courts at Lakefront Park. Sessions begin Sept. 8 and run through Oct. 6 with a makeup date slated for Oct. 13 if necessary.

The clinic is open to fifth and sixth graders. Cost is $25 and players will receive a t-shirt.

Clinic instructors are Ernie Brooks and Megan Flora.

Brooks is a Clinton native who ran track at Tennessee Tech and Implemented the USTA Tennis Program for the Boys and Girls Club. He played league tennis for more than four decades.

Flora, a teacher at North Clinton Elementary School, played club tennis at Lee University after her high school career at Knoxville Catholic.

Blaze and Lady Blaze continue to get community support; Stamey said that fundraising for the athletic program continues to flourish despite financial hardship caused by the Coronavirus pandemic.