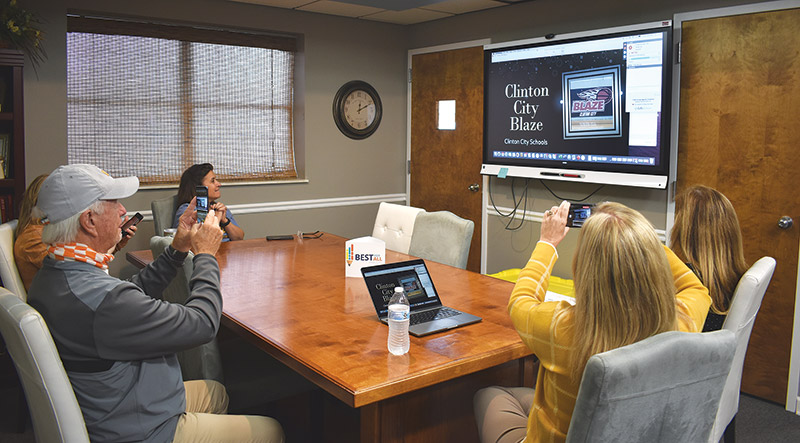 It may have been virtual — there were no red carpets, hor d'oeuvres, or gentlemen wearing tuxedos —but Clinton City Schools was recognized for something no other school system in the state can brag about.

This year, anyway.

Last Thursday, the Tennessee School Boards Association recognized the system's Blaze program as the 2020 Excellence in Education Program winner.

"Each year, the Tennessee School Boards Association offers an award to a board of education that has an innovative and successful program operating within its district," the TSBA said. "The 2020 Award for Excellence in Education Program winner is the Clinton City's 'Clinton City Blaze.' The district developed a program that allows students to participate in activities outside of the classroom such as swimming, basketball, and [the] Exceptional Artist Club, at no cost to the families. The board and superintendent know that students who feel more connected and involved will do better in the classroom."

Because of the COVID-19 pandemic, the awards ceremony was held virtually, a situation that didn't go unnoted by Clinton City Director of Schools Kelly Johnson.

"E.T., you don't get to walk up to a podium and receive the award," she said with a laugh after the announcement was made.

E.T Stamey is the athletic director for Clinton City Schools. It has been through his work and organizational skills that the Blaze program has flourished and expanded to include not just athletics, but music and the arts.

But Stamey said the credit really goes to the Clinton community.

The TSBA also recognized School Boards of Distinction.

Twenty-nine of the state's 137 school districts' boards earned "Boards of Distinction" status.

For years, the TSBA has offered programs to recognize individual school board member accomplishments.

But it's also important to recognize outstanding performance by a school board as a whole.

TSBA's Board of Distinction Program recognizes boards for their work.

There is a 15-point checklist school boards must meet.

Of the 29 school boards recognized by the TSBA in 2020, all three school boards serving in Anderson County were recognized as Boards of Distinction.

The Anderson County, Clinton City and Oak Ridge school board were all honored.