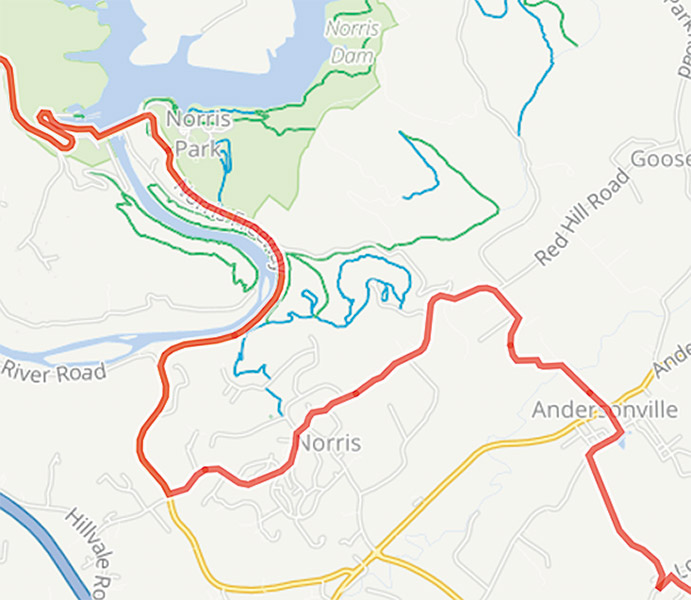 Already a popular place for bicycle riders, the city of Norris on Monday approved a proposal to put the city on the map of officially designated U.S. Bike Routes.

Norris will show up on the route map for U.S. Bike Route 21, which, when completely laid out and marked with signs, will allow cyclists to follow the designated route from Aberdeen, Ohio, on the Ohio/Kentucky state line all the way through Chattanooga to Atlanta.

The Kentucky and Georgia portions of so-called USBR 21 have already been approved by the sanctioning agencies – the American Association of State Highway Officials and the Adventure Cycling Association.

Tennessee's section, which enters the state near the Cumberland Gap Tunnel at the Tennessee/Kentucky line and crosses into Georgia in Chattanooga, is the last link, and approval is expected soon.

Norris City Council members voted unanimously for a resolution supporting inclusion of the city's link in the route, which would enter Norris on U.S. 441 (Norris Freeway) at Norris Dam, continue down U.S. 441 to West Norris Road, and follow West Norris to West Circle Road, then onto Reservoir Road.

It would exit Norris on Reservoir, then continue from Reservoir onto Lambdin Road in Andersonville, then onto Mountain Road, where it would then pick up Indian Gap Road heading toward Maynardville Pike.

The route eventually passes through Knoxville before heading toward Chattanooga.

Most of it follows country roads that have less traffic than major arteries, with the idea that these routes would be safer for riders when it comes to sharing the road with motor-vehicle traffic.

Norris City Manager Scott Hackler said the official U.S. Bike Route designation would bring bicycle riders into the city from all over, as these designated routes are becoming quite popular with cyclists.

This is one of two special route designations Norris is pushing for this year.

The other is a move to have part of U.S. 441 designated a U.S. Scenic Byway by the Federal Highway Administration.

The decision to give the Scenic Byway designation to the section of U.S. 441 between the Halls community in Knox County and Rocky Top is now in the hands of the highway administration.

An effort to have this portion of U.S. 441 made a Scenic Byway was begun several months ago by Hackler, who has since enlisted help from other public entities along the route, including the Anderson, Campbell and Knox county governments, the city of Rocky Top, Norris Dam State Park, and the Tennessee Valley Authority.

"A National Scenic Byway is a road recognized by the United States Department of Transportation for one or more of six 'intrinsic qualities': archeological, cultural, historic, natural, recreational, and scenic," according to Wikipedia.

As for the U.S. Bike Routes, there are now more than 14,000 miles of roads officially established in the system in 29 states and the District of Columbia, according to the Adventure Cycling Association.

According to the association's website (adventurecycling.org):

"The U.S. Bicycle Route System (USBRS) is a developing national network of bicycle routes connecting urban and rural communities via signed roads and trails.

"Created with public input, U.S. Bicycle Routes direct bicyclists to a preferred route through a city, county, or state - creating opportunities for people everywhere to bicycle for travel, transportation, and recreation."

There are links on the association's website to the view bike route maps and to download them to smartphones or GPS systems.