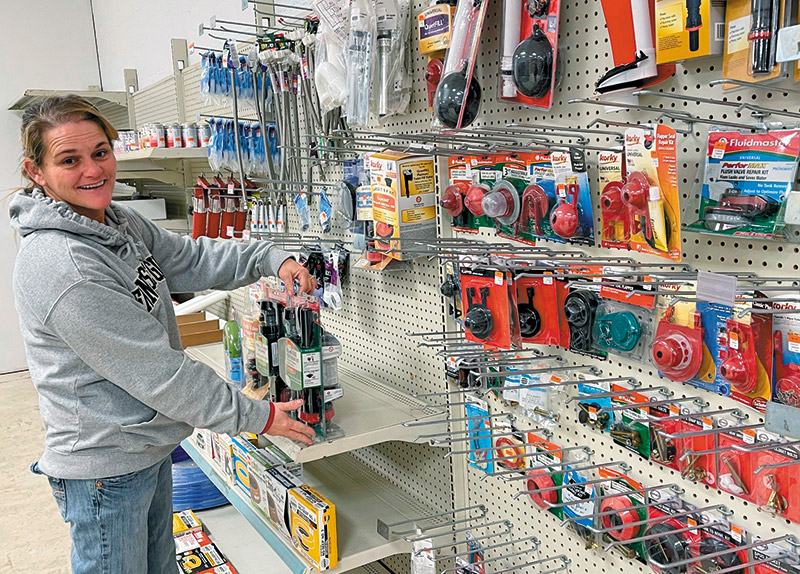 The hardware store is now open in the new Docks & More facility on Andersonville Highway in Norris.

Co-owner Kayla Pyles said Monday was the first day for the hardware side of the business, which operates in a building that once served as a steak restaurant at 3360 Andersonville Highway.

"Today was our first day, and we're still getting shipments of merchandise in every week," Pyles said.

For now, store hours are 9 a.m. to 5 p.m., but she said "that's subject to change in the next week or two," depending on customer demand.

There is no sign for the business yet along the highway, as the sign permit is still pending in the city of Norris, Pyles said. The business is just past the liquor store, on the right side of the highway, about a quarter-mile east of the Dollar General Store.

"For now, we carry a variety of plumbing fittings, chainsaw accessories, lawn and garden supplies, fasteners, basic hand tools, marine supplies, and some automotive supplies," Pyles said. The store does not sell any auto parts, however.

"We're stocking the store for consumers, so people can stop in and tell us if there are certain things they want us to carry," she said.

Pyles and her husband, Brandon Boland, said last summer that they were setting up the hardware store in the building of the former King's Steakhouse, where they relocated their dock-building and marine supplies business last year.

Boland said at the time that the hardware portion of the business was being set up and stocked by Knoxville's House-Hasson Hardware Co. — an independent hardware-supply wholesaler.

Before taking over the former restaurant building, Boland and Pyles operated Docks & More from their Andersonville home for about four years.

Boland said the couple bought the former steakhouse to be able to offer a storefront for their dock business and to supply do-it-yourself customers with parts and other supplies for building and maintaining their own docks.

But the building is so large that the couple decided to expand the parts side of the business into a full-fledged hardware store, which will take up about 2,000 square feet of the structure's total 7,600 square feet.

There also is an 1,800 square-foot showroom for the pre-fabricated docks that the company sells and installs, Boland said. The docks are customized to each buyer's specifications.

Boland was the maintenance man at the Stardust Marina for 15 years before starting his own company with his wife.

He said he hatched the idea for the hardware store after his water heater failed at home, and he had to drive "all the way to the Ace Hardware in Clinton to get a $5 part" to fix it.

The hardware store will be able "to order anything anyone needs and have it here the next day," Boland said.