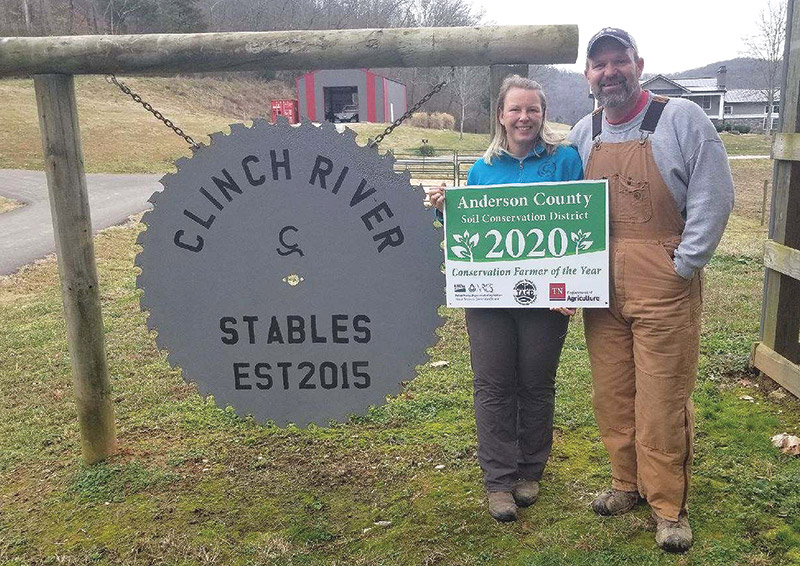 Anderson County Soil Conservation District has announced that Amanda and Neil Evans have been chosen to represent Anderson County as its "2020 Farmers of the Year."

Amanda Evans, daughter of Brad and Glenia Vannoy, and husband, Neil Evans, own and operate Clinch River Stables, formerly Vannoy Dairy Farm, in Rocky Top.

Clinch River Stables officially opened in 2015 and has partnered with Anderson County Soil Conservation District several times throughout the years. Early projects included high tensil cross fencing and watering facilities.

"Partnering with the soil conservation district gave our farm a boost when we needed it the most. Getting started is always the hardest part. The guidance and support that we received made taking our first steps easier," Amanda said.

In 2020, the Evans family was able to complete a multidimensional project that solved long standing issues.

"Installing grass waterways in a couple of problem areas and being able to put in the appropriate size gutters and downspouts in our barn has made a dramatic improvement in the way water leaves our fields and barn area," Amanda said.

"It makes a huge difference, especially in the winter. I encourage any landowner to contact their county soil conservation district office. We are very thankful for the partnership. It's a great resource for us and all landowners of Anderson County," she continued.