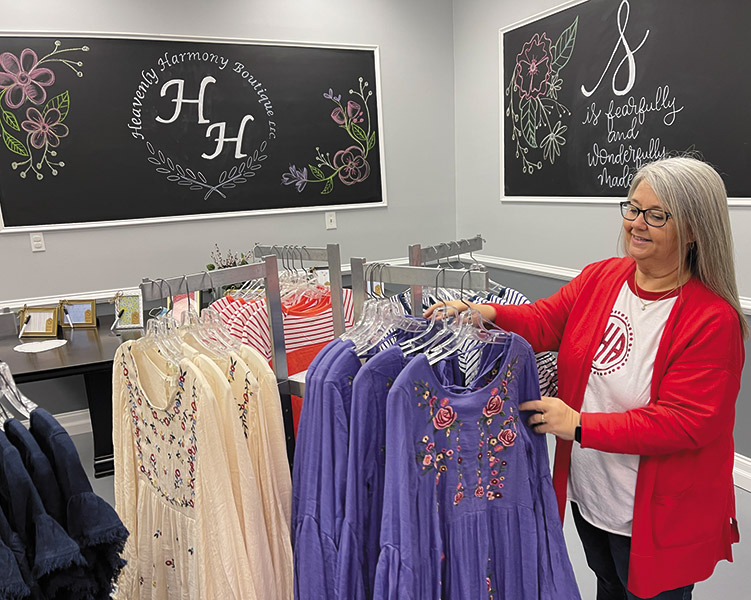 Kimberly Harmon has finally realized her dream of owning her own boutique.

A lifelong Andersonville resident, she recently opened the Heavenly Harmony Boutique in part of the former space of a church in the Anderson Crossing Shopping Center at 3320 Andersonville Highway in Norris.

"We opened Jan. 22, and we have boutique-style clothes, including women's and plus-size clothing, children's clothes, some shoes and jewelry, and other items," Harmon said.

"We also do personalized t-shirts, and can do prints or vinyl on the shirts," she said.

"This has always been my dream," she said. "We are working on expanding our offerings, but we already have gift items for birthdays and special occasions. Our kids' clothing is mostly for girls, and includes dresses and bathing suits. We also have such things as baby blankets and pacifiers."

Harmon, who also works full-time as a teaching assistant at Anderson County High School, said her boutique is open from 11 a.m. to 7 p.m. Tuesdays through Thursdays, and from 11 a.m. to 8 p.m. on Fridays and Saturdays. It's closed Sundays and Mondays.

The store conducts a live video sale on its Facebook page on Monday evenings, Harmon said.

"I'm really enjoying it so far," she said. "I've had the opportunity to meet so many new people."

Inside, there are some creative blackboard-style signs with colorful chalk artwork that were created for the boutique by Allison Greenhouse, who is an art teacher at Norris Elementary School, Harmon said.

The store is in the same strip shopping center as the La Sierra Mexican restaurant, Game Time Pizza and Dollar General.