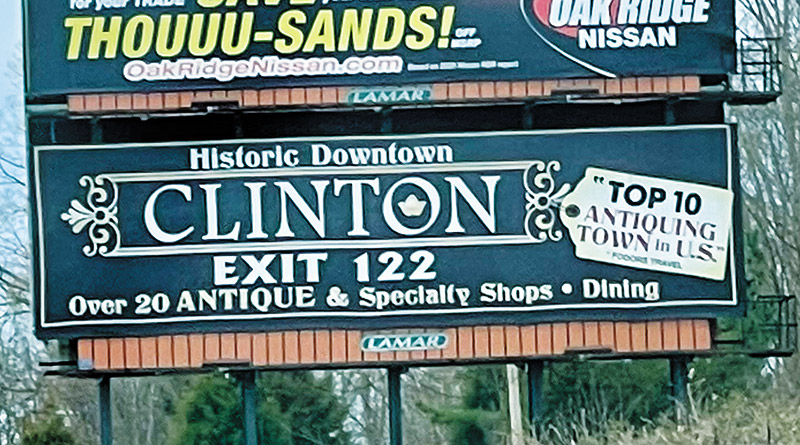 There soon could be a new billboard along northbound Interstate 75 beckoning travelers to get off the highway and visit Historic Downtown Clinton.

The Anderson County Chamber of Commerce, with support from the city of Clinton and the downtown merchants, is trying to find a billboard that can be rented to help spread the city's message as I-75 travelers heading north approach Exit 122, said Janet Hawkins, the Chamber's executive vice president for retail development.

"We have two billboards up now for southbound traffic, but we want to put one on the other side for northbound motorists," Hawkins said.

One of the two southbound billboards that have been in place since 2003 would be given up and be replaced by the northbound sign, she said.

Right now, the two southbound billboards cost a total of $1,100 a month to rent, with the city paying two-thirds of the cost and the Historic Downtown Clinton Merchants Association coming up with the rest, Hawkins said.

"We would cancel one of the southbound ones, and shift that money to the northbound side," she said.

The city is committed to pay its two-thirds share through June 30, and the chamber and merchants' group hope that participation will be renewed.

"We had one up near Raccoon Valley Road for a while, but it seemed to be tilted the wrong way, and it was up in the trees," Hawkins said. "They couldn't seem to keep the trees trimmed away from it.

"So now we're looking to find one about a mile from Exit 122 on the northbound side. We're waiting for Lamar (Outdoor Advertising) to come up with one, but they don't have any available yet. We're on the waiting list, but we thought it would be easier than this."

Downtown merchants hope that a new billboard would help bring in more business, said Donna Raines, president of the merchants' association and owner of Burrville antiques.

"We're doing everything we can to promote the great small businesses here on Main and Market streets," she said.