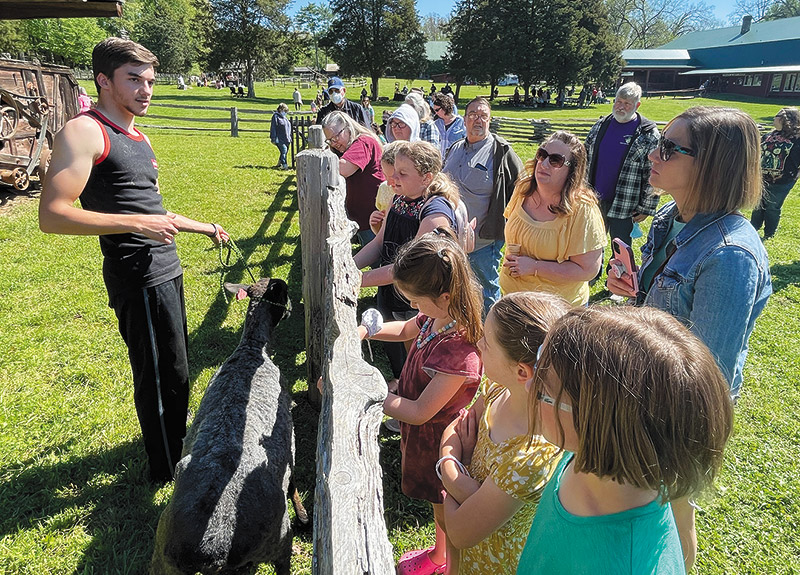 Hundreds of people — including lots of kids — flocked to the Museum of Appalachia on Saturday to get an up-close look at the art of sheep shearing during the annual event on the museum's grounds in Norris.

Museum staff and volunteers helped herd cars into parking lots, and visitors into the barn and animal pen areas where the shearing took place.

Experienced shearer Daniel Tallent, 23, seemed to enjoy showing off his skills and then introducing the freshly-shorn sheep to the museum guests. He was aided by his mother, Tanya Tallent, and his sister, Salina Tallent.

"I've been doing this about three years," said Tallent, who lives in Knoxville and studies animal science at the University of Tennessee, where he hopes to continue on to veterinary school.

"I want to have a mixed practice of small and large animals, including sheep," he said.

Most of the sheep he was shearing on Saturday were of the Border Leicester variety, a British breed of polled, long-wool sheep, which are large but very docile.

They were provided by Cynthia Conner of Cinderella Farm in Karns, whom Tallent described as his "mentor."

Some of the sheep were white, while others were solid black.

Before shearing each sheep, Tallent trimmed their hooves, which he said needs to be done several times a year. The shearing of the wool is usually done once a year, in the spring, Tallent said.

"It's over a decade that we've been doing this now,"Will Meyer, the museum's marketing director, said of the event.

Because the museum — which also is a working demonstration farm — doesn't have a large population of its own sheep, most of those sheared during the event are brought in.

Tallent said the sheep mostly don't mind the shearing, and as observers saw, they generally remained quite docile as he was cradling them gently while using the electric shearers.

There were also wool spinners and weavers on hand to show visitors how the sheared wool is processed and made into finished products, such as sweaters.