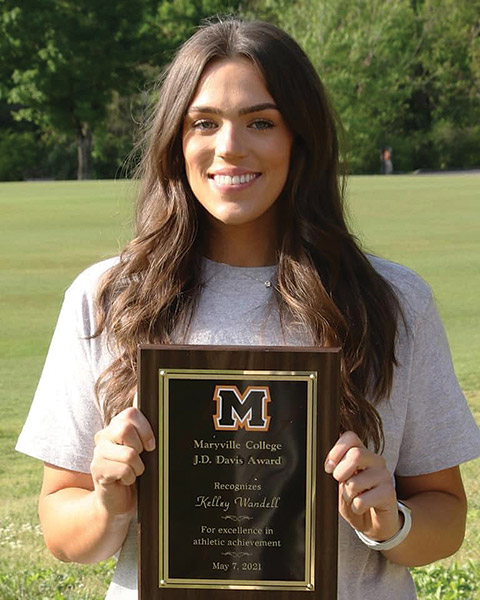 Claxton native Kelley Wandell has earned the 2021 J.D. Davis Award as the top senior female athlete at Maryville College.

Wandell, a 2016 Clinton High School graduate, played volleyball and basketball at Maryville, helping to lead her volleyball team to a conference championship in 2019 while helping her basketball team win this past season's USA South Conference Tournament.

The award is voted by Maryville College coaches based on qualities of leadership, Christian values, and academic and athletic abilities. Wandell was one of four finalists for the award named after a longtime Maryville coach.

During four years of volleyball, Wandell recorded 275 kills and 68 blocks. Coach Kandis Schram praised Wandell's play and leadership — qualities especially crucial in winning the 2019 conference volleyball championship.

On the basketball court, Wandell recorded 594 rebounds, 132 blocked shots and 618 points as a post player during her career. An injury resulted in her being able to play a fifth season this past winter.

Scots basketball Coach Darrin Travillian said Wandell's decision to return and her quality of play were important factors in the Scots winning the conference tournament.

Wandell, daughter of Tracy and Shannon Wandell, majored in political science with minors in criminal justice and psychology. She was active in a number of campus and community activities during the past five years.

"I am appreciative of the support from my coaches, my teammates and my family for making this possible," said Wandell, who participated in Maryville's graduation ceremonies this past weekend.

"This college has exceeded my expectations and helped to make me a better person every day," she said.

Wandell also acknowledged the support over many years from Clinton Lady Dragons basketball coach and MC graduate Alicia Phillips, who encouraged her to attend MC.