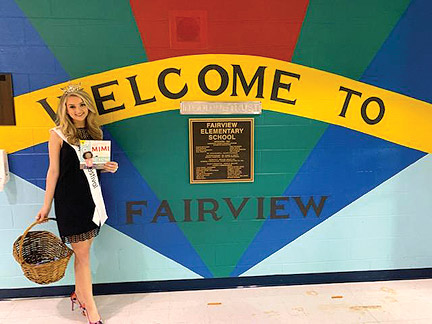 Jordan Bowling (Miss Apple Festival), Anderson County's only contestant in the Miss Tennessee Scholarship Competition, recently stopped by Fairview Elementary School to read books and talk about her social-impact initiative to several classes.

Bowling's initiative is advocating for and helping provide opportunities to kids and adults with special needs.

She read several books that emphasized kindness to children with disabilities, as well as everyone who might have different abilities, and encouraging inclusion.

Bowling lives in Heiskell, is an Anderson County native and currently attends the University of Tennessee in Knoxville majoring in biology.

Her goal is to become a pediatrician, and some day she hopes to join a practice or start a practice in Anderson County.

Bowling had the following to share with Clinton Courier News readers:

"You are all invited to the Miss Tennessee Scholarship Competition in Memphis at the Cannon Performing Arts Center, July 1-3 at 7 p.m. (CST) each night. Even if you can't attend the competition, there are several other ways you can be involved.

"Anyone can vote for the 30 Miss Tennessee contestants for the Miss Tennessee People's Choice Award. The winner of the People's Choice Award will be awarded a $1,000 scholarship and will automatically advance to the Top 12 in the competition.

"I would appreciate your vote for People's Choice or your help as a sponsor in the Miss Tennessee Program Book. You can vote as many times as you wish and each vote is only $1," Bowling said.

The link for People's Choice is pageantplanet.com/event/2021-miss-tennessee-scholarship-competition-2021. Voting is currently open and stays open until July 2.

If you are a local business, friend or family that wants to send well-wishes in the program book, please email vjustice007@gmail.com for more information.

Business sponsorships range from $100-$500 and are available for the Program Book.

Friends and family can join a well-wishes page by contacting Miss Apple Festival on Facebook or Instagram or by email to vjustice007@gmail.com.

Jordan said she appreciates the tremendous local support and is looking forward to the competition in July.