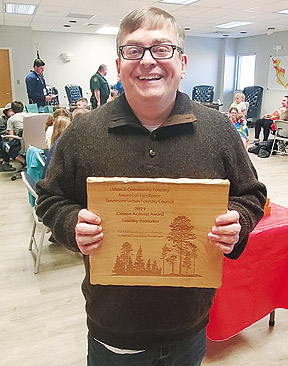 Tim Hatmaker, Rocky Top's Tree Committee chairman, has been given a prestigious state award for his work to help establish the local committee and push for tree conservation in the city.

He was named Tennessee's outstanding citizen activist for 2021 by the Tennessee Urban Forestry Council, honoring his efforts "in forming a local Tree Committee, ordinance development, community education, grant funding and the planting of nearly 1,000 trees or seedlings over a four-year period" in Rocky Top.

Additionally, the city of Rocky Top has been given the Tree City USA award for the third-consecutive year.

Hatmaker's recognition came from the Urban & Community Forestry Awards of Excellence program, and his award was presented by Tennessee State Forester Diane Warwick.

This award is presented annually to one outstanding citizen activist for the entire state of Tennessee, according to an announcement from the state Forestry Department.

Hatmaker was nominated for the award by Robert Griffith.