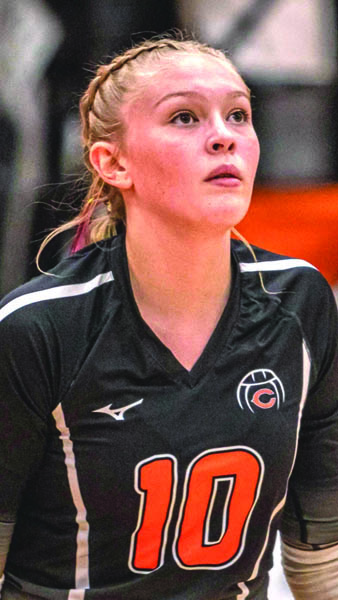 Remember, she is just a freshman.

Josie Moody, a standout on the Clinton Dragons volleyball and basketball teams, continues to rake in the honors in volleyball while helping the basketball team continue its winning ways.

Moody was named one of 12 players in East Tennessee for PrepXtra Volleyball Player of the Year, the only freshman, and one of three underclassmen, which she considers a "big honor."

She finished the season with a stunning 70 aces, 264 digs, 500 assists, and a serving percentage of 98.

Moody was named Offensive Player of the Year for District 3, Team MVP, and All-Prep Xtra Player of the Year.

Moody was a standout with the Clinton Hawks last year, and said playing her freshman year was a major transition because the game is a "much faster pace."

Moody said playing both basketball and volleyball help with conditioning and her vertical game.

"From August to December, my vertical has increased five inches," Moody noted.

When asked what being a Lady Dragon means to her, Moody said, "Being a Lady Dragon is fun. I've always looked up to the Lady Dragons since I was little, and now I have little kids doing the same. It's fun to hear them yell my name and know who I am."

She named her parents as one of her biggest influences because, "They never fuss at me for the way I play; they only tell me to do my best, and know that when I cross that line at the end of the game, I know I have done my best."

Her "Grammy and Pappy" are also major influence. "She (Grammy) is my biggest fan, always there supporting me," she said.

"My Pappy may not be there in person, but he's watching from above."

Moody also names coaches Lorri Johnson, Megan Thomas, Meghan Ellis and Junior Johnson as influences for teaching her the love of the games, along with her teammates.

"My teammates have got me where I am today," she said.